First Ph.D. in engineering graduates in May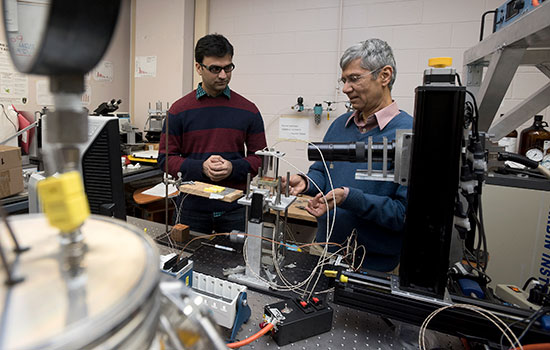 A. Sue Weisler
University Communications is highlighting a few members of the Class of 2018. See more commencement news at rit.edu/news/commencement.
When Pruthvik Raghupathi began his doctoral research in 2014, he said developing sustainable energy resources was one of the biggest challenges of his generation.
He'll contribute to this task after he graduates in May. Raghupathi will receive a Ph.D. in engineering and be the first graduate of RIT's seventh doctoral program.
Seeing students such as Raghupathi succeed and graduate with doctoral honors is not new to Satish Kandlikar.
The professor of mechanical engineering has mentored and advised many students during his 30-plus years at RIT, including another first graduate of the microsystems engineering Ph.D. program in 2005.
He has shared his research successes in the area of bubbles and boiling phenomena with students like Raghupathi, and they have worked together to advance a field where understanding fluid dynamics will be key to improving alternative energy sources.
"What impressed me about Pruthvik was that he showed a deep understanding of the theoretical basis of the boiling phenomena. In our work now, it's all about the bubbles," Kandlikar said.
That work involves developing boiling mechanisms to improve heat transfer for power generation, cooling of high heat flux devices used in space, cryogenic heat exchangers and water desalination.
"My work was part of a study to look at how surface properties affect boiling, what happens when you have different types of liquids, such as sea water, and how fouling, or contamination, affects boiling performance as salt develops on the surface," Raghupathi said.
Technology is complex, and the ability to develop it to influence society is one of the main goals of the Ph.D. in engineering.
Launched in 2014, the program began with 10 students. Taking a multidisciplinary and entrepreneurial approach, the program addresses global challenges as economic and societal drivers, specifically in four application domains: transportation, energy, communications and health care.
It also aligns with national priorities as outlined in each of the strategic plans for the U.S. departments of Transportation, Health and Human Services and Energy.
More than 50 students are in the program today. Several from the first cohort are also nearing graduation.
After Raghupathi graduates, he intends to seek a position with an energy company's research and development area.