Formula SAE Racing opens season with Top-20 finish
Team places 6th in design finals with high scores in static and dynamic events in a field of 120 collegiate race teams from around the world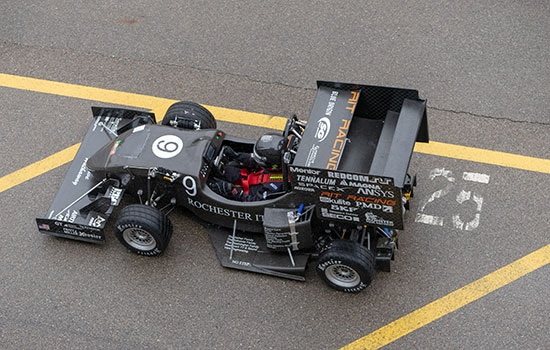 With a lighter, faster racecar, RIT Formula SAE Racing opened its season with a Top-20 finish at Michigan International Raceway. The team placed 16th overall in a field of 120 collegiate teams this past weekend during Formula Student Michigan, the largest national collegiate design competition in North America. It is one of several in the U.S. and around the world that brings together student race teams from the U.S., Canada, South Korea, Spain, Mexico, Austria, Germany and Brazil to test skills in the design and development of Formula-style racecars.
RIT racing placed well in all of its events, particularly the design finals where the group placed sixth. However, it rained during part of the competition, which affected all teams, delaying the endurance race for more than an hour, said Collin Cragon, RIT Formula's chief engineer for F26, this year's car.
"Weather delays and changes certainly added some uncertainty and unpredictability to the dynamic events," said Cragon, a fifth-year mechanical engineering major from Loudonville, N.Y. "That's part of what makes this competition so exciting."
Over the past several years, the different competitions include racecars built with traditional gasoline engines and others that combine traditional engines with all-electric or hybrid vehicles. For 2018, RIT Racing built two cars, one with a gasoline engine, the other all-electric. Both are lightweight vehicles, with most of the parts and equipment designed, manufactured and tested at the university.
"We're especially proud of the team's result in Michigan," said Phill Kelner, an electrical engineering major from Pittsburgh, Pa., and F26 project manager for RIT Racing. "We had specific goals of losing 20 pounds, upgrading some of our systems and improving project documentation for our team presentation this year. Although we had some challenges during the manufacturing season, we finished well in each of our events this past weekend. Completing laps during endurance and making the design finals gives us ample data to improve all aspects of our race going into our next events."
RIT Racing heads to Canada for Formula North taking place May 31 to June 3 in Barrie, Ontario. Later in the summer, the team heads to Silverstone Circuit, home of British Motor Racing, north of London, England, for Formula Student UK from July 11 to 15. The team was invited as part of the 20th anniversary of Formula Student UK, and as one of the winning teams during those 20 years. (RIT won the international event in 1999).
Additional reporting for this story by Samuel Kramer, PR manager for RIT Racing. Kramer, Kelner and Cragon graduated from RIT this May.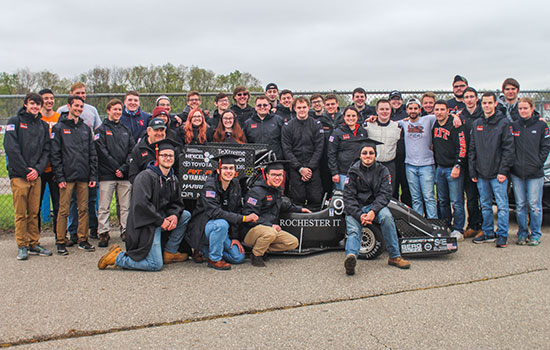 Alex Bowman, RIT Formula