Four RIT faculty and staff alumni receive Golden Brick Award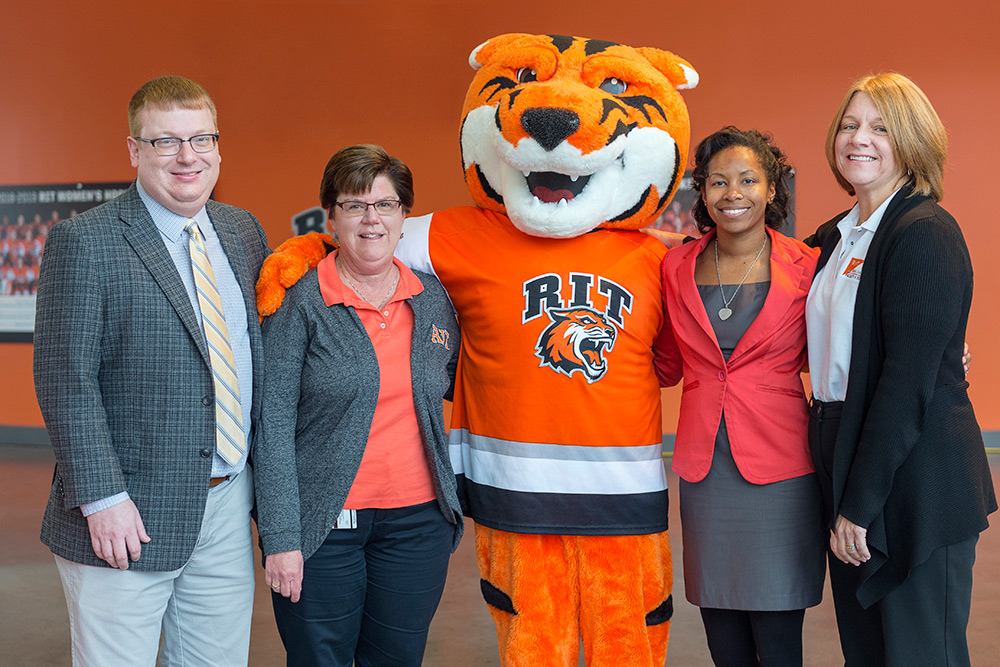 Elizabeth Lamark
RIT recognized four people with the Golden Brick Award at the Faculty and Staff Alumni Breakfast and Golden Brick Awards Ceremony this morning.
The awards honor faculty and staff alumni who have gone above and beyond their duties to volunteer on campus or serve in volunteer leadership roles for RIT, said Jon Rodibaugh '12 (MBA), the executive director of Alumni Relations.
"The faculty and staff alumni chapter, along with the office of Alumni Relations, is here to empower and enhance the relationships you have with each other and fellow alumni," Rodibaugh said. "Whether you are preparing students for successful careers, enhancing student life on campus, connecting with alumni or simply demonstrating Tiger Pride every day, we hope you will do so with the idea that you are a powerful voice representing both the value of a RIT degree and the excellence of our faculty and staff."
The four alumni being recognized this year are:
Nathan Cahill '97, '00 (applied mathematics), associate dean for Industrial Partnerships, associate professor of mathematics, School of Mathematical Sciences: Cahill became a faculty member nine years ago and, since then, he has gone above and beyond in his commitment to the RIT community. He has been a faculty adviser to numerous graduate students, he supervises independent study courses and regularly hosts and invites speakers to campus to share their expertise with students. One nominator stated that Cahill is incredibly dedicated to the students working in his research groups and he not only organizes research trips for these students, but often will fund the trip himself. Cahill's generosity and love for RIT shines through in every aspect of his work.
Mary Beth Nally '94 (business administration), executive director, Student Financial Services: Nally has been with the financial services department for 36 years helping to guide students and parents through the complicated financial aspects of higher education. She can be found sharing her Tiger Pride at lacrosse and hockey games, alumni events, throughout the Rochester community and in the first-year courses she teaches. Nally is an instrumental partner to Alumni Relations and has built relationships with key donors to help secure gifts in support of graduate education for the Rochester City Scholars program. As an alumna, staff member and parent to a student, Nally lives and breathes RIT.
Denishea Ortiz '04 (international business), director, Strategic Marketing and Retail Product Management, Student Auxiliary Services:  Ortiz is a dedicated volunteer and is involved in many campus activities. She is a member of WOCHA, a member of the Engagement Committee for the Faculty and Staff Alumni Chapter and is a sister of Sigma Lambda Upsilon/Senoritas Latinas Unidas Sorority Inc. She is always there to provide a helping hand, particularly when it comes to the Alumni Relations office. From helping with the Presidents' Alumni Ball to supporting the new Lobozzo Alumni House, Ortiz is eager to show support and be a strong advocate for alumni and the entire university. When people ask what RIT for Life means, nominators suggest simply showing a picture of Ortiz.
Donna Podeszek '11 (applied arts and sciences), senior staff assistant and scheduling officer, Golisano Institute for Sustainability: Podeszek is a fixture at the Rochester alumni chapter meetings and events on campus. She never hesitates when it comes to helping students and dedicates at least 10 hours each week to working with and mentoring NTID students one-on-one. Podeszek is always showing off her Tiger Pride, both with her RIT hockey jersey and her commitment to volunteering at events. According to her nominators, if someone were to name any event RIT hosts, Podeszek has most likely volunteered or helped with it in some capacity. One nominator said Podeszek is a shining example of devotion and dedication to the success of RIT, and working with her has been a positively rewarding experience.