Freshmen get jump on academics
Program helps prepare underrepresented students for successful transition to college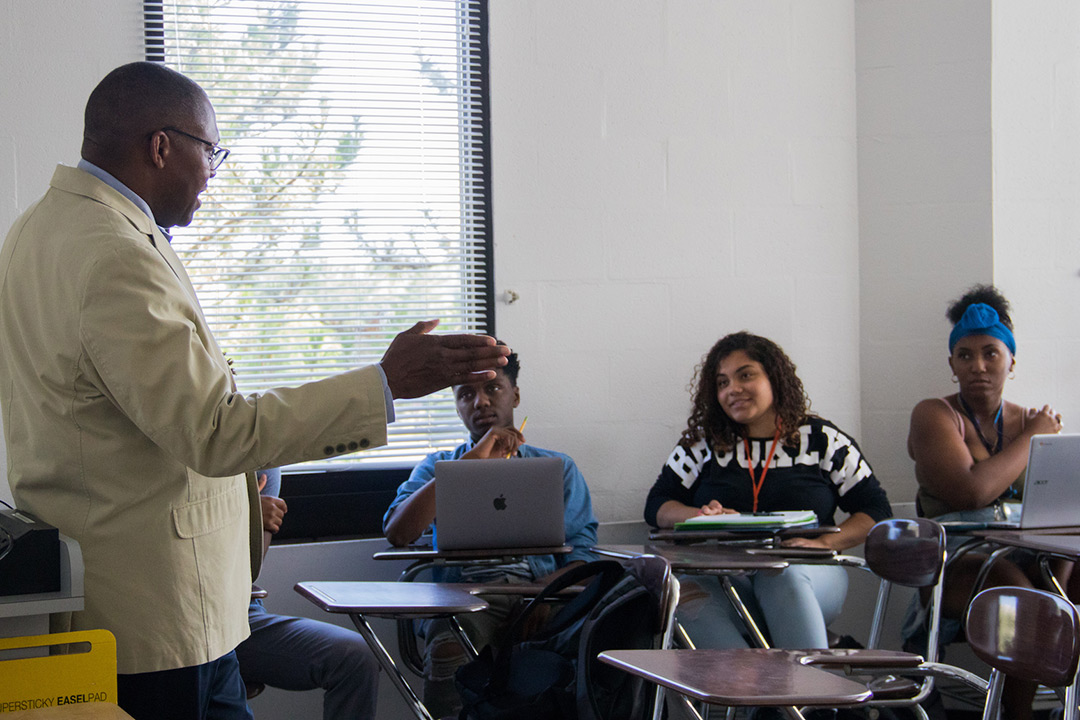 Devon Watters
Sixty-four Rochester Institute of Technology freshmen are starting their college careers early by participating in the Division of Diversity and Inclusion (DDI) Summer Experience. The four-week program helps prepare first-year students from underrepresented populations for a successful transition to college.
From July 14 to Aug. 10, the students live on campus and take two credit-bearing classes—a first-year writing seminar and a course in college algebra, pre-calculus or intercultural communication. The Summer Experience also provides the students workshops on study techniques from the Academic Support Center, connects them with mentors and deans' delegates, allows them to explore regional landmarks such as Niagara Falls and engages them in community service projects.
"The DDI Summer Experience provides an important social and academic experience for students to be able to be here for four weeks, really get to know the campus climate and create a small community that then strengthens their position once they get here in the fall," said James Macchiano, director for MCAS. "Just having a familiar place to stop and getting to know all the resources and the people that are here is critical."
The DDI Summer Experience fused together summer bridge programs previously offered by RIT's New York State Arthur O. Eve Higher Education Opportunity Program (HEOP) and the Multicultural Center for Academic Success (MCAS). A recent gift from a local charitable organization provided funding for the incoming class of Destler/Johnson Rochester City Scholars program to participate as well. The program also serves underrepresented students from across the country who aren't affiliated with these scholarship programs.
"The DDI Summer Experience has allowed the division to leverage resources and provide an enriching pre-college experience to incoming freshmen who have come to RIT through a wider range of pathways," said Belinda Bryce, director of HEOP.
Previous iterations of the DDI Summer Experience have proven to be effective in helping the long-term success of diverse students at RIT. In 2015, the first-year retention rate for students who participated in the MCAS Summer Bridge program was 92.5 percent; nationally at four-year private institutions that same year, the retention rate for African American students was 67.0 percent and 75.0 percent for Hispanic students. The DDI Summer Experience can also propel students who excel to scholarship and honors programs.
"This program can help students earn the GPAs that make it easier to be eligible for a variety of opportunities," said Jonathan Ntheketha, senior assistant director of student success and engagement in MCAS. "Doing well early can set them up for co-ops or scholarship programs such as the McNair Scholars Program, Louis Stokes Alliance for Minority Participation, Collegiate Science and Technology Entry Program and the MCAS scholars program. We've also created a pathway for RIT's Honors Program through their late entry process."
The students will cap off the Summer Experience on Thursday with a community service project on campus and a closing banquet.