GIS alumnus successfully sustaining his career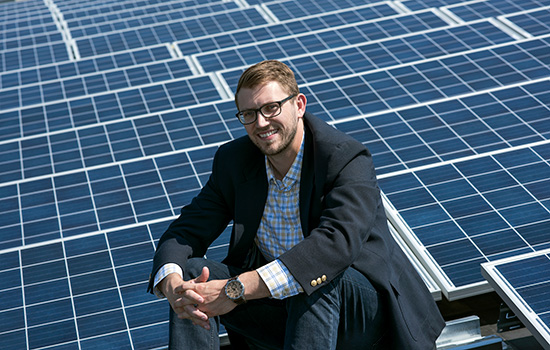 A. Sue Weisler
When first identifying where he would focus his education and ultimately his career, Mike Waller '16 (sustainability) thought photovoltaics—the technology that powers solar cells into energy—would fuel his path forward.
"I thought—and still do—it's an amazing technology," said Waller, a native of Greece, N.Y. "But since the only thing that really matters in this world is people, I realized that sustainability is a perfect fit for me to be able to take all of my education, passion and experience in the engineering field and focus it on resolving real issues that impact the health and well-being of so many."
As the first-ever director of sustainability and special assistant to the CEO at Rochester Regional Health (RRH), Waller's role with the integrated health services organization impacts the lives of thousands of people in Western New York, the Finger Lakes and beyond.
The health system, which includes five hospitals, is the region's second largest employer.
Waller credits the RRH leadership team—particularly CEO Eric J. Bieber—for its forward-thinking in hiring an inaugural head of sustainability.
"The health care sector has begun to realize that if we spend more time working on helping people rise out of poverty and proactively take care of their health needs, they will lead much healthier lives," he said.
Since graduating from RIT's world-class Golisano Institute for Sustainability (GIS), Waller has directed a wide variety of energy-efficiency and renewal energy programs for RRH's more than 250 locations and 16,000-plus employees—everything from boosting recycling and waste diversion efforts to carbon footprint reduction activities such as new LED lighting and motion sensors to conserve power.
One of his most recent initiatives is a 487 kw solar array designed to power 20 of the health system's blood draw laboratories that Waller views as a "stepping stone into much larger renewable energy programs."
His efforts have resulted in improving recycling rates to 80 percent of the system's waste stream, along with the implementation of RRH's first organics recycling program that sends cafeteria waste to an anaerobic digester for conversion to electricity.
"We are working on reducing our total energy usage by 35 percent, which would bring all of our buildings into the 75th percentile of Energy Star-rated buildings," Waller said.
He added that RRH also is improving its building standards by incorporating Leadership in Energy and Environmental Design (LEED), one of the most popular "green" building certification programs used worldwide, into new construction activity.
After earning degrees from Marquette University and Arizona State before his doctorate from GIS, Waller—a 2017 honoree of the Rochester Business Journal 's Forty Under 40 class—is confident that RIT helped put him on his chosen path.
"What sets RIT apart is its focus on hands-on and experiential learning, which is essential for people like me to be effective in their work and real life," he said. "All of that was key in preparing me for the work I am doing today."