Global Day of Service set for Saturday
Tigers give back to local communities across the globe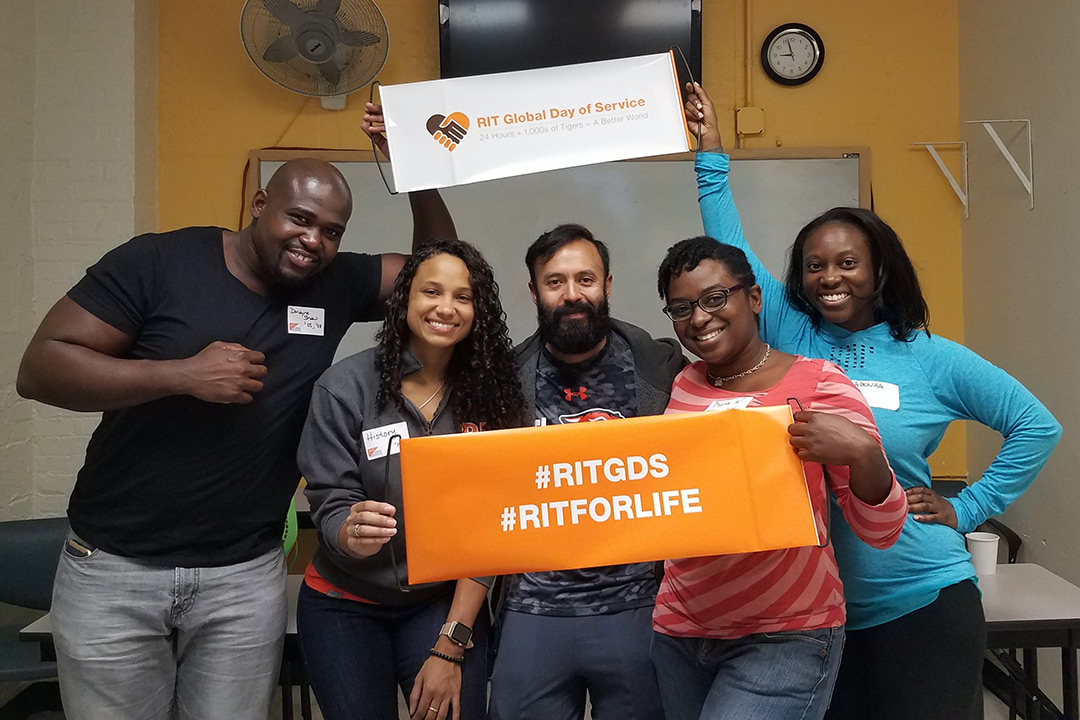 The spirit of giving is a trait RIT tries to instill in its students during their time on campus. After students graduate, they bring this spirit into their own local communities.
The fourth annual Global Day of Service on Saturday, Sept. 8, allows alumni and families to come together and give back to their community through service projects.
Joeseph Del Conte Jr. '85 (mechanical engineering), from Powder Springs, Ga., has participated in Global Day of Service for three years. As an alumni regional council leader for the Atlanta chapter, he has helped plan, organize and will run the chapter's service project at the Edgewood Community Learning Garden.
"This is a great way to bring RIT alumni, families and friends together in a positive environment," said Del Conte. "Alumni should challenge themselves and those they love to spend time doing something new and different that helps give back to others."
Fifty-five service projects will be completed on Saturday and more than 300 people plan to get involved with the program. There are eight local sites in Rochester alone, as well as international sites in Peru, Croatia and New Delhi.
Alumni in Peru will be working with Colegio La Alegria En El Señor, a school that serves students with special needs, on infrastructure projects around the campus. In New York City, alumni are volunteering at the Bowery Mission, St. Peter's Pantry and the Brooklyn Bridge Park Conservancy.
Bill Sachman, senior associate director of regional chapter programs, encourages all alumni to take part in Global Day of Service. Even if there is not a local chapter in their region, alumni can participate individually or create their own local event.
Sachman hopes this program will encourage more alumni and families to get involved with RIT and the Alumni Association.
"Global Day of Service is a nice way to connect with the RIT community," said Sachman. "It provides an opportunity for alumni, parents and families to engage with each other and the university while they benefit their local community."
For more information, go to http://www.rit.edu/alumni/GDS/. To see or share photos of service projects on social media, use #RITGDS. There will be a live feed of photos available on the above website during the event.