Global Lifestyle
Global Village residents have interest in study abroad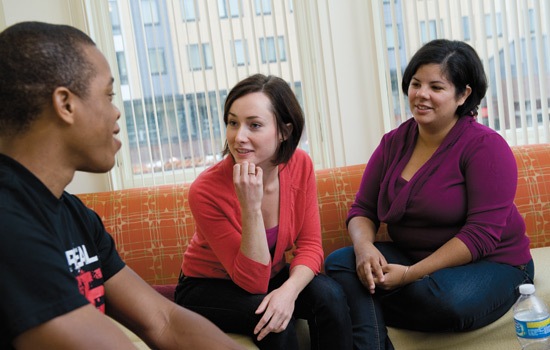 A. Sue Weisler
Fourth-year biomedical sciences student Olivia Svrchek has a passion for travel that has taken her to Denmark, Italy, France, Germany, Poland and Mexico. And now, she has brought her love for travel back to campus in an effort to help other RIT students satisfy their desires for exploration.
Svrchek, from North Creek, N.Y., was one of the first students—and one of the first resident advisors—to move into the study abroad residence cluster of the newly opened Global Village complex. Her duties include providing insight to students who will soon embark on their own unique study abroad experiences, and welcome hugs to those returning to RIT from overseas.
There are 16 specially selected students living in the Global Village housing cluster. Interviews were conducted last spring, and in addition to some international students, the clusters house students with strong interests in study abroad travel as well as those ready to go and those who have already completed their travels.
"I consider myself fortunate to be able to help students with their day-to-day issues and experiences on campus in my role as an RA and offer my perspective on study abroad travel as well," Svrchek says. "Study abroad is something that I really enjoyed and am passionate about. The world is so much bigger than what's right in front of us, and traveling to other countries really opens your eyes to different ways of living."
The study abroad office recently moved inside the Global Village complex, and according to the program director, the move is indicative of the powerful message of commitment that RIT has to overseas experiential learning.
"The study abroad office located inside Global Village is a one-stop shop for those students interested in traveling and learning in other countries," says Tynelle Stewart, director of Study Abroad Programs for RIT. "In addition to providing vital information about the countries in which we offer programs, we provide students with a foreign language lab and details about overseas co-op placements."
Stewart says her office serves a variety of students—from those who are just beginning to think about a study abroad experience and have a million questions, to those on the verge of travel, as well as those students who have completed their experiences and need to be re-acclimated to university living.
In 2009, more than 200 RIT students participated in study abroad programs in more than 45 countries—a 30 percent increase over the past three years. Stewart expects these numbers to increase due, in part, to the office's presence in Global Village.
"Global Village is so new and exciting," she says. "There is a lot of foot traffic in this area and students can't help but notice the Study Abroad Office. Global Village and study abroad are a natural fit."
Constellation donation supports global initiatives
A $1 million commitment to RIT by Constellation Brands Inc., the world's leading wine company, made the Constellation Commons for Global Learning housed in Global Village possible. The commons is intended to serve RIT students and faculty as a touch point and clearinghouse for all aspects of global education, including study abroad support, faculty exchange opportunities and multicultural programs such as the Future Stewards Initiative for Native American students.