Grad's mission is to help build computer centers in Kenya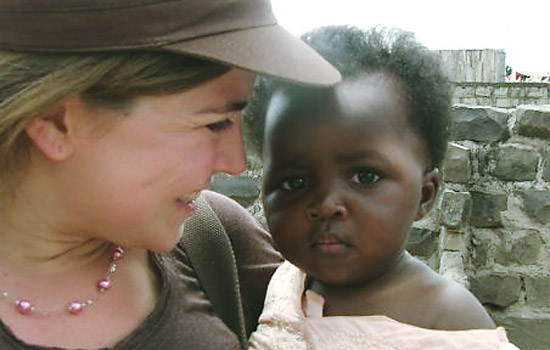 ONLINE EXCLUSIVE
Becca Nelson blogs about baking M&M cookies—and morning runs to work off the calories. She writes about concerts, hikes, friends—typical subjects for a 20-something American student.
But tears and tragedy also mark Nelson's posts from Kenya. She writes of an elderly grandmother who's lost all of her children and grandchildren and is now raising her 2-year-old great-grandson alone, breaking rocks to make money. Nelson writes about the lack of rain and rising food prices and children who come to school so hungry they can barely stay awake. She writes about efforts to create work for women—raising chickens, making soap, making jewelry—work that often fails because the economy is so bad.
"I cannot believe what I'm seeing," Nelson wrote on March 2. "Last year I saw poverty but I do not think I really got it. Now my heart's breaking and I don't know what to do. And I'm starting to think no one is stronger than these women."
Nelson '07 (professional and technical communication) will wrap up a two-month stay in Kenya on March 31. It's her second extended visit in two years, both related to her capstone project for an RIT master's degree in multidisciplinary studies. Her goal is to produce a handbook for the construction and operation of solar-powered computer centers and to develop a plan for dissemination of the information for the benefit of people in areas of the world where computer access is limited.
In other words, Nelson's mission is to help people in underdeveloped areas bridge the digital divide.
"Last year was a weird string of events," she says. "I told my pastor I had a desire to teach computers to pastors and aid ministries in creating Web sites. He went to Kenya and asked 'What is the one thing we can do to help your district of churches?' And the pastor there replied 'Come teach us to use computers and create Web sites."
So Nelson headed for Kenya. It was after her return to Rochester last year that she learned of Steve Peifer. Peifer, his wife and two children moved to Kenya in 1999 and ultimately organized a program that today feeds more than 19,000 schoolchildren. In 2007, he was recognized as a CNN Hero for Championing Children.
But Peifer realized that food alone won't bring people out of poverty. The former employee of a large technology company came up with the idea of teaching computer skills to children in Kenya. The labs are constructed from old shipping containers and powered by retractable solar panels. So far, 10 centers have opened, each with 10 laptop computers. Students – some have never seen a computer before – learn basic skills as well as Microsoft software including Word, Excel and Access. All of the teachers are native Kenyans.
After reading Peifer's book, Your Pal, Steve, Nelson wrote to him and received an invitation to stay with his family at Rift Valley Academy, a boarding school in Kijabe, Kenya, for children of missionaries. Nelson took time off from her job at VanDamme Associates, a Rochester-area company that specializes in providing technology support for non-profit organizations and associations.
Peifer's work building computer centers lines up perfectly with Nelson's capstone project.
"I'm trying to document every bolt and screw," she says. "Then others can do it all over Africa and elsewhere."
The handbook is progressing well, she reports. "I even find time to do a bit of hiking to get off my Macbook for a few minutes. I also have helped around campus with teaching driver ed, redesigning the Web site for KenyaKidsCan.org (Peifer's volunteer organization) and writing up contracts for schools/teachers/etc. There needed to be more documentation and that's my job."
She's also become a conduit for funding for two special projects she helped start on her first stay in Kenya. One helps women in Mwiki, near Nairobi, develop an income by raising chickens. The second project is helping a church build a simple school for youngsters in Embakasi, a poor suburb of Nairobi. People can donate online at Nelson's Web site using PayPal. She also directs donors to KenyaKidsCan.
"It's very hard when I get 20 bucks donated for 'the greatest need there is,' " she says. "It's like SimCity when you're playing the computer game and have to decide whether to build a hospital or a school first. Need is everywhere."