Graduate students share research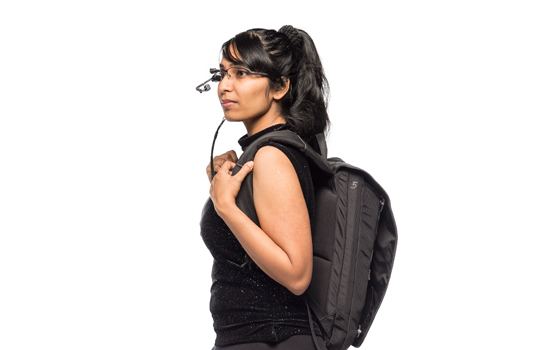 Chelsea Clarke, RIT Production Services
Preethi Vaidyanathan had just three minutes to summarize and present her years of thesis research.
She needed to explain her work at the intersection of human perception, computational linguistics and computer vision to a general audience. And she had to do it all using only one static PowerPoint slide.
As the newest addition to RIT's Graduate Research and Creativity Symposium, the Three Minute Thesis competition gives Ph.D. and Master's students yet another opportunity to cultivate and exercise their presentation skills in a supportive setting.
More than 90 graduate and Ph.D. students were expected to participate in RIT's eighth annual Graduate Research Symposium on April 8. The event gives students an opportunity to share their research in areas ranging from astrophysics to robotics engineering. They also have the chance to win a few hundred dollars for their work.
"Personally, I like speaking at the symposium because it's great practice and it gives you the confidence that your hard work is worth sharing with others," said Vaidyanathan, an imaging science Ph.D. student from India.
Vaidyanathan saw the call for this year's new Three Minute Thesis competition and knew she was up for the challenge. She had already enjoyed presenting at the symposium twice, where she got to explain her work and showcase the results.
"I stress to my students that sharing research with other scientists at professional meetings is both a responsibility and an opportunity for valuable feedback on developing questions," said Jeff Pelz, professor in RIT's Chester F. Carlson Center for Imaging Science, who advises Vaidyanathan along with Cecilia Ovesdotter Alm and Emily Prud'hommeaux, assistant professors in RIT's Department of English, and Anne Haake, dean of RIT's B. Thomas Golisano College of Computing and Information Sciences. "I always encourage my students to participate in the graduate symposium because it is a great way for students to have that experience with their peers and to develop critical public presentation skills."
The annual symposium allows students to share their work through oral or poster presentations. Organizers encourage students to network at the event and present their work in a way that anyone can understand it.
"I'm normally terrified of public speaking, but this has been a good opportunity to learn how to communicate things in a clear way," said Triana Almeyda, an astrophysical sciences and technology Ph.D. student from Miami, Fla. She presented at the last two symposiums and is now a member of RIT's Graduate Student Advisory Committee.
Leading up to the symposium, the Office of Graduate Studies hosted a week of speakers, workshops and social events to celebrate graduate research at RIT.
The ninth annual symposium and Graduate Education Week will be held in April 2017.