Grammy-Winning Graphic Designer Stefan Sagmeister Comes to RIT
International designer plays the creative tension between art and design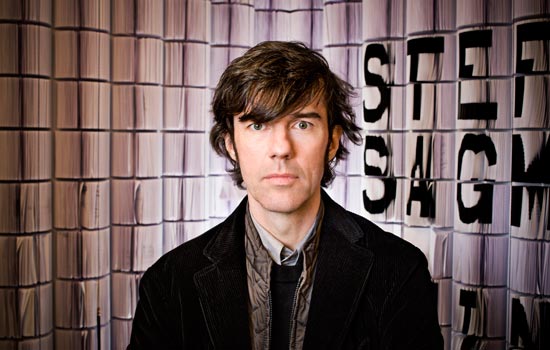 Stefan Sagmeister, capstone speaker for the Caroline Werner Gannett Project at Rochester Institute of Technology, will present "Design and Happiness" at 8 p.m. Oct. 5, in RIT's Ingle Auditorium.
Sagmeister has earned notice for his public graphic designs and hand-crafted type and installations on subjects such as war, peace, populist causes and personal obsessions. His love of the "loud, free and experimental" depicted in the book Things I Have Learned in Life So Far includes his well-known inflatable angry white monkeys installation.
Ducking formal traditions, Sagmeister has also published his personal maxims in spaces around the world usually dedicated to traditional advertisements and promotions, such as billboards, magazine spreads, projections and annual reports. Known for his sincerity, his work ethic includes keeping his studio business small, turning down work and accepting only projects that "engage him personally and physically."
In addition, Sagmeister is noted for his designs for HBO, Time Warner and the Guggenheim Museum, as well as his album covers for The Rolling Stones, Lou Reed and David Byrne. His cover design for Once in a Lifetime, a Talking Heads box set, won a 2005 Grammy Award. His 2001 retrospective, Sagmeister: Made You Look, details several decades of experimental projects, "challenging the slick commercial business of design."
In connection with his visit, Sagmeister has issued a design challenge for all RIT students. He has asked participants to "touch someone's heart with design." Sagmeister will tour various projects placed around the RIT campus in the afternoon of Oct. 5. Additional details about the challenge can be found at www.cwgp.org.
"Stefan Sagmeister's inventive energy is endless. He reshapes public consciousness–ethically, philosophically and most of all imaginatively with his inspired design process. He speaks a language students relate to and understand," says Mary Lynn Broe, director of the Caroline Werner Gannett Project.
Broe created the Caroline Werner Gannett Project in 2006 and, with the interdisciplinary Gannett Working Group, brings to campus international scholars, authors and artists in lectures, colloquia and workshops that explore new connections across the sciences, technologies, social sciences and humanities. All Gannett events are free and open to the public.
##