Helping to end gender bias with Advocates & Allies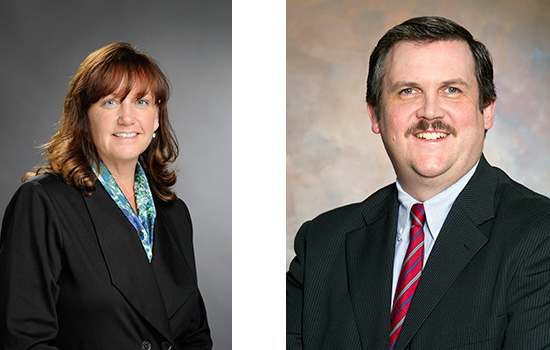 Gender equity is not just a women's issue, said Marcos Esterman, and he is part of a campus group that believes it is attainable if men and women work together.
Esterman is a member of Advocates & Allies, a new campus program in which male colleagues help improve campus culture overall and support advancement of female faculty.
With women underrepresented nationally in the science, technology, engineering and math (STEM) fields, as well as academic leadership positions, such advocacy is seen as necessary for leveling the playing field.
At RIT, improving female and African, Latin and Native American (AALANA) faculty recruitment and retention are some of the identified challenges.
Subtle actions such as stifling women's suggestions in faculty meetings, passing over deserving women for promotion or tenure, or offering inadequate resources for research are just some examples of gender bias, ones that Esterman and many of his male colleagues would like to help address.
"It is more prevalent and pervasive than people realize, and it is the kind of thing nobody wants to think they are doing," said Esterman, associate professor of industrial and systems engineering in the Kate Gleason College of Engineering. "Advocates & Allies can make an impact beyond awareness of issues. That's been our focus—personal accountability."
More than 50 male faculty volunteered for Ally trainings in the past year to understand how unconscious bias can affect faculty recruitment, promotion and tenure, and what actions can be taken.
Advocates commit to meeting regularly to discuss and disseminate new research on gender bias and to develop Ally trainings that blend national information with specific data about RIT. The initial 13 Advocates are from STEM and social science programs. Several hold leadership positions as department heads or campus governance representatives.
"It is a very thoughtful and reflective group of people. I appreciate the thoughtful and principled nature with which everyone has tackled this," said Esterman, who also serves as associate to the provost for AALANA faculty.
Changing perceptions of stereotypes and unconscious bias begins with awareness, labeling stereotypes as they surface and taking actions to alleviate bias in decision-making, said Betsy Dell, faculty associate for female faculty. She and Robert Garrick, both faculty in RIT's College of Applied Science and Technology, are coordinating RIT's Advocates & Allies program.
For Esterman, his motivation to support colleagues also extends to his high school age daughter who has aspirations to be an engineer or a scientist.
"I have to confess, I find myself frequently being educated by her," he said, adding that she has experienced some of the bias the Advocates are hearing about. "It's been an eye-opening experience that's for sure. This is her future career path, and I'm hoping if she chooses to go into academia, that the environment will be more conducive to her success in pursuing what she loves to do."
About Advocates & Allies
Advocates & Allies began at North Dakota State University through an ADVANCE grant from the National Science Foundation focused on increasing participation and advancement of women in science and engineering. RIT received NSF funding in 2015 for its own program. The following faculty members involved are Robert Garrick, College of Applied Science and Technology; Vincent Serravallo and Javier Espinosa, College of Liberal Arts; Larry Buckley, Christopher Collison and Scott Franklin, College of Science; Rajendra Raj and Steve Zilora, B. Thomas Golisano College of Computing and Information Sciences; Edward Brown, Marcos Esterman, Ruben Proano and Vincent Amuso, Kate Gleason College of Engineering; and Clyde Hull, Saunders College of Business. Information about the program and available resources can be found at nsfadvance.rit.edu.