Hot Wheelz team goes electric, heads for big race
All-female team prepares for SAE Formula Hybrid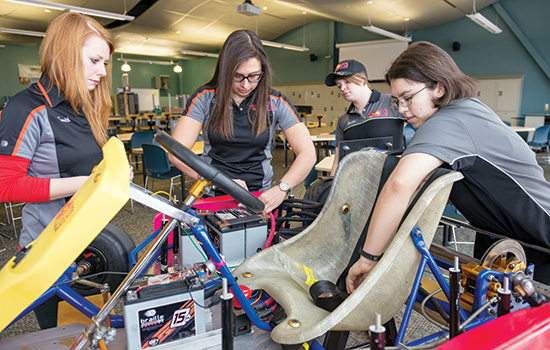 Chris Coe
Hot Wheelz wants to become RIT's first all-female race team at the next SAE Formula Hybrid electric competition.
To compete, they needed $100,000, sponsors and space to build their car.
Jennifer Smith and Maura Chmielowiec are meeting these challenges. The fifth-year mechanical engineering majors are team managers, leading 35 enthusiastic first-to-fifth-year female students building a Formula electric car for the May 2016 competition in Louden, N.H.—with help from campus and community supporters.
Hot Wheelz' modified go-cart took the checkered flag in 2012 at RIT's Imagine Innovation and Creativity Festival's E-Dragster event. Several festivals later, Chmielowiec took an idea to Smith and Jodi Carville, then director of WE@RIT, about building a Formula racecar and participating at a Society for Automotive Engineers' national collegiate design competition.
"We are so ready for this," said Chmielowiec, from Batavia, N.Y. "We have more experience, the support of RIT and the College of Engineering. We understand the process of designing and working as a team."
That work began more than a year ago in the classroom and hands-on in the shop. Chmielowiec, Smith and Emily Wood completed an independent study in chassis design last spring, led by Marca Lam, senior lecturer in mechanical engineering. Through a yearlong senior design project, an electrical bench was built to test the car's electrical system.
"We also like to push the team to do things outside of their major, because in industry there is a big push for mechatronics and having multiple skill levels," said Smith, who is from Sidney, Maine. The team has been overwhelmed by the support provided. Michael Krupnicki allotted space at his company, Rochester Arc & Flame, for the initial build underway, and donated welding lessons for the team this summer. Marty Schooping, senior program manager at RIT's Pollution Prevention Institute, continues as a co-advisor. SpaceX, a major corporate sponsor asked that one of its employees work with the team. Kursten O'Neill '11 (mechanical engineering) and lead certification engineering at the company was a natural, having served as co-project manager for RIT's Formula team as an undergraduate. "I don't think we realized the scope of this," Smith said. "Nobody knew of an all-female team."