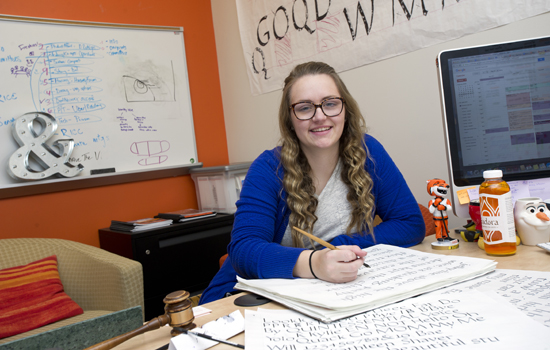 A. Sue Weisler
Andrea Shaver was a high school junior from Frisco, Texas, when she first visited Rochester to participate in a national competition for the Young Entrepreneurs Academy, which inspires and cultivates future business leaders.
She delivered a pitch for her graphic design enterprise, Flaming Squirrel Design, but didn't make the cut. The loss turned into a win, however, when she came to RIT the next day to see the finalists compete. Imagine RIT: Innovation and Creativity Festival was underway, and Shaver, who was seeking a non-traditional study of art, saw a universe of possibilities.
Shaver said that after experiencing Imagine RIT, the only college where she could imagine herself was RIT.
"Not being a finalist was a blessing in disguise," said Shaver, 21, now a third-year RIT graphic design major and vice president of Student Government. "I got to wander all around campus. I got to see how students were working on their majors and collaborating with others in different schools and departments. The nerdiness of the school—I loved it!"
Before the visit, Shaver had been uncertain about which college to attend. Drawn to art and graphic design, she hadn't taken formal art classes. She possessed a true entrepreneurial spirit, having watched her father build a software company, and ran her own freelance design business. She wanted a school that would nurture all her interests.
Shaver remembers that first Imagine RIT, particularly the Pep Band (which she later joined) and the bicycle blender that made smoothies using pedal power. But what sold her, she recalled, was speaking with students, seeing the originality of their work, and learning about RIT's vast opportunities. "Everyone here is free to be themselves," she said. "It's the best of all worlds."
Today, Shaver is an honors student, with minors in web design and development, entrepreneurship, and advertising and public relations. In addition to her Student Government leadership role, she works for the Admissions Office, helps produce RIT social media content and serves as a note taker.
She once demonstrated calligraphy at Imagine RIT, and this year she's hoping to display entries for a contest she's overseeing to redesign student ID cards.
"It's a very exciting day," Shaver said. "You get to experience all the nooks and crannies of the school and see things you didn't know people were doing here."
About Imagine RIT
The campus-wide event, now in its ninth year, showcases the intellect and spirit of RIT students, faculty and staff, offering some 35,000 visitors each year more than 400 interactive presentations, hands-on demonstrations, exhibitions and research projects, as well as multiple performances with live music and entertainment—all open to the community and free of charge.
The festival, set this year for May 7, is a STEAM event, offering exhibits on science, technology, engineering, the arts and math.
New to this year's festival: Dr. Destler's Access and Inclusion Technology Challenge to develop technology that will aid people with differing abilities and lead to better access and inclusion in society.