International student found world of opportunities at RIT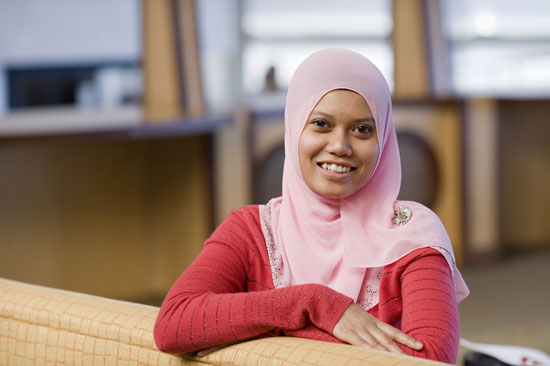 A. Sue Weisler
Nurul Hawa Ahmed picked RIT four years ago without ever having set foot on campus. For that matter, she had never traveled outside of Malaysia.
RIT is one of the few U.S. universities to which the Malaysian government sends its brightest students to pursue biotechnology. Hawa is one of 100 Malaysian students enrolled in the program at RIT. She will graduate this month with her bachelor's degree, and return to Malaysia with a highly marketable education and opportunities she might never have had back home.
Hawa's sense of adventure and ambition overcame her initial anxiety at leaving her family in Perak State located north of the Malaysian capital Kuala Lumpur on the Peninsula Malaysia. She is the first in her family to study abroad. "It's kind of a big thing for me," she says.
Hawa could have attended State University of New York at Buffalo, Pennsylvania State University or University of California at Davis, but she was intrigued by RIT's quarter system. It represented a departure for her from the British-style semester system common in Malaysia in which students' grades depend solely on their final exams.
"When I came here I saw myself change and become really good in time management and academic performance," Hawa says. "I could get involved in clubs and other things. It's really opened my eyes that I can do anything I want here. I can excel and be myself."
Hawa has taken nothing for granted while at RIT. She regards every class, research opportunity and club activity she's engaged in as a privilege. In 2008, Hawa began working closely with Michael Savka, associate professor and director of biotechnology, studying a bacterial communication system called quorum sensing. In the summer of that year, she was selected to participate in the university's undergraduate research program. She received a $3,000 stipend to screen and identify bacteria affecting sugarcane and grape vines. In the process, she learned how to work in a lab.
"I learned a new technique every time and how to improve the technique," she says. "We experimented. Sometimes it's frustrating, but this is what my professors call 'research.' And now I can understand why people do 10 or 20 years of research. I totally understand now."
Hawa presented her research at the 18th Annual Undergraduate Research Symposium, Rochester Academy of Science and College of Science Undergraduate Research Seminar. She continued to stretch her public speaking skills by participating in the Institute Public Speaking contest last fall with a talk about fish therapy, a trend in Southeast Asian spas that uses tiny fish during pedicures to nibble away dead skin.
Hawa's interest in public speaking ties in with her deliberate effort to cultivate her interpersonal skills outside of the laboratory. Her minor in business management and concentration in communication have given her opportunities to connect with other students and professors outside of her major.
"I want to improve my interpersonal skills and my communication skills to be confident to talk to others," Hawa says, "because I realize all those skills are really important if you want to have your own business in biotechnology. You have to have those skills as well as your laboratory skills."
Connecting with people and planning events is also high on Hawa's list of things to do. She is a former vice president of the RIT Malaysian Student Association and a dancer in the troupe that performed during the annual Malaysian Week event. The troupe was invited to dance at Cornell University in February following its first place win at RIT's Global Unification Day competition.
Hawa also has volunteered as a Peer Advisory Leader in 2008 with the international student orientation programs. And she was recently invited to join the Platinum Training Team to attract more students to the Center for Student Innovation. During Imagine RIT: Innovation and Creativity Festival, Hawa welcomed thousands of people to the center. "I personally think that Imagine RIT is a phenomenal event and it should be held every year," she says. "It's also another way for RIT to serve the Rochester community and other people as whole."
When Hawa returns to Malaysia at the end of this month, she will take a break before pursuing a doctorate in horticulture. "In Malaysia, we have a lot of interest in improving the productivity of crops, so I think horticulture is really relevant." Eventually, she might have her own business or become a professor. At this point, the future is a little uncertain, just as when she arrived in Rochester in 2006. The difference is now Hawa knows without a doubt that she can accomplish many things.
"When I got here I had a mindset that I want to change. That's why you come here. I want to experience new things, to be a better person, so I choose to be involved, I choose to be active, I choose to strive for excellence in academics—because I found that is really restrictive to do at home. It's not that you can't do it, but here I found it's a lot easier. And I found I can do these things, and I'm really motivated by that."