Jenn Poggi: From the White House to RIT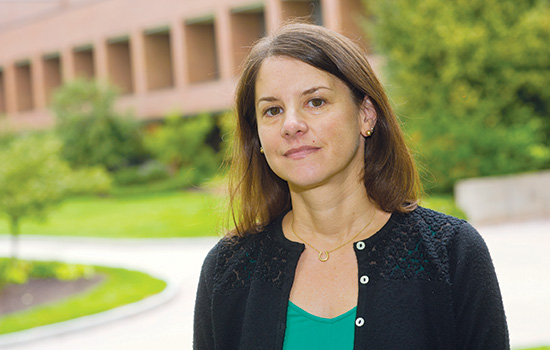 A. Sue Weisler
Jenn Poggi joins RIT this fall as a 
visiting assistant professor in the School of Photographic Arts and Sciences following four years at the White House, where she served as a picture editor and deputy 
director of the Photo Office.

A native of Webster, N.Y., Poggi 
attended Syracuse University and 
graduated from the S.I. Newhouse School of Public Communications. She began her career in 1994 as a photo assistant with The Associated Press in New York City and later worked as a picture editor covering national, international and sports news. In 1998, she joined U.S. News & World Report as an assistant picture editor, handling 
national and political news. Poggi 
eventually went on to become the 
magazine's deputy director of photography.

In 2008, Poggi was awarded a John S. and James L. Knight Fellowship at Ohio University's School of Visual Communication, where she taught picture editing and completed her master's course work in multimedia and newsroom
graphics management.

"Jenn is a great addition to our highly 
respected school and photojournalism 
faculty," says William Snyder, professor and chair of the photojournalism program in the School of Photographic Arts and Sciences in the College of Imaging Arts 
and Sciences. "We are looking forward to 
working with her and developing new 
curriculum around her expertise."

Q: Welcome to RIT. What will be your primary responsibilities as a visiting professor in SPAS?

A: I'll be teaching a number of core courses as well as strengthening our new areas of concentration—image editing and multimedia storytelling—while developing new curriculum that leverages my expertise. I'm really excited to be helping the juniors with their senior project proposals. I also helped William organize the senior trip to Washington, D.C., in late September.

Q: What makes the RIT opportunity 
attractive to you?

A: The talented SPAS faculty members have developed one of the great photojournalism programs in this country and there are many photojournalists out there who are alumni. It's their passion and fantastic work that is the best advertisement for the program. So the opportunity to join a team like this was a very attractive proposition. 

The opportunity to work with students again was very appealing to me. I really 
enjoy teaching and feel there is great potential to work in innovative ways and for collaborative projects to be done on campuses. If that way of thinking is being instilled in students at the very beginning of their 
careers, there is no doubt it will have an 
influence on the future of the photo-
journalism industry.

Q: What does today's photojournalism major need to know most about the 
current industry needs? Is the "multimedia photojournalist" the here, now and future?

A: My goal is to reinforce the importance 
of developing stellar documentary photojournalistic skills, which is already being taught to students in every photojournalism class they take here at RIT. If a student values and develops those skills, they can apply them in many different directions.

Sure, multimedia photojournalism is 
important, but my intention is not to turn every student in that direction. The 
program here at RIT seeks to expose these 
burgeoning photojournalists to all of the tools out there so they can decide how best to tell their stories. Like any pursuit in life, some students will find their passion in one area while others will go in totally different directions with their work. 

Some of these guys may decide they are passionate about photojournalism but are much more interested in the editing and production aspect than actually shooting. So, showing them all the different kinds of jobs that exist within the photojournalism industry, along with tangible steps they can take to get these jobs, is also very important.

Q: Does any one memory or day from your four-year experience at the White House stand out?

A: There are many things that stand out from my time at the White House. How could there not be? From the important events and meetings taking place to the 
furniture in each room, literally around 
every corner there is history staring you 
in the face. 

But I have to say it's the people that 
made the experience so special for me. The White House complex is a true intersection of humanity—a place where so many 
different kinds of people, from so many 
different places, who have experienced vastly different circumstances in life come together. Every day I was amazed by my colleagues—their generosity, dedication 
and hard work. It's really not unlike a 
college campus and that's one of the many reasons I'm excited to be here.