Job fair connects deaf students with employers
Companies, federal agencies will scout new talent at employment event Oct. 18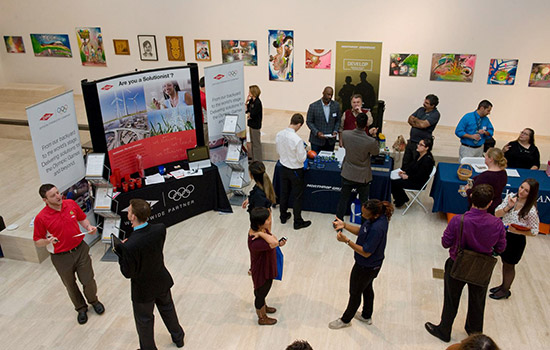 Mark Benjamin
Representatives from more than 40 local and national corporations, federal agencies and nonprofit organizations will meet with hundreds of deaf and hard-of-hearing students—who are also prospective employees—at the 17th annual job fair, 12:30–4 p.m. on Wednesday, Oct. 18, at Rochester Institute of Technology's National Technical Institute for the Deaf. The event will be held in Lyndon Baines Johnson Hall on the RIT campus.
"Employers will have the opportunity to recruit talented deaf and hard-of-hearing students in associate and bachelor's degree programs such as business, finance, graphic design, engineering, computing and more," said John Macko, director of NTID's Center on Employment.
Interpreters will be available at each table, and in many cases, the company recruiters are NTID alumni. Companies registered to attend the fair include Caterpillar, Communication Service for the Deaf, Defense Finance and Accounting Service, FDIC, Ingalls Shipbuilding, Merck, Naval Supply Systems Command Weapon Systems Support, Prudential and Texas Instruments, among others.
"Employers continue to want highly qualified employees who bring the necessary skills and who will fit into the company culture and contribute to the company's success," added Macko. "Our students are well-trained and can hit the ground running at companies right here in Rochester and all over the country."
There are a few openings available for employers who want to participate. For more information, email Mary Ellen Tait or call 585-475-6426.