KGCOE hosts Family Day as part of Engineers Week
College hosts middle school students and parents in labs as part of exploring engineering contributions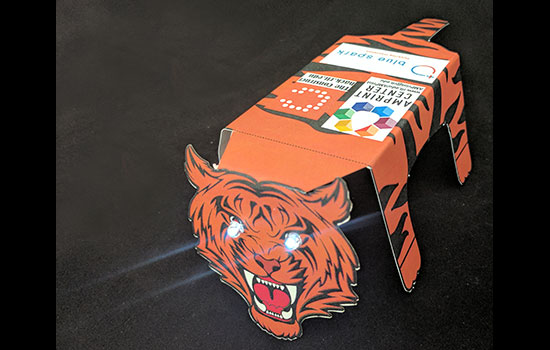 National Engineers Week takes place Feb. 18-24, and Rochester Institute of Technology will participate in the annual recognition of engineering contributions hosting Family Day at the Kate Gleason College of Engineering from noon to 4 p.m. on Feb. 21.
Open to middle school students and their parents, participants will tour the mechanical engineering machine shop where RIT's students build Formula racecars for national and international competitions. They'll be able to work with faculty and staff in the AMPrint Center to produce printed electronics for miniature tigers. In the Toyota Production Laboratory, participants will run a recycling line to test the right match of staffing and workload. And in the microsystems and microelectronic engineering departments, participants can learn about the process to build integrated circuits found in today's electronic devices.
Engineers Week is led by DiscoverE, formerly the National Engineers Week Foundation. Its mission is to sustain and grow a dynamic engineering profession through outreach, education, celebration, and volunteerism. DiscoverE helps stakeholders expand community and educational outreach by providing resources and turnkey programs for employees and volunteers, supporting strong workforce diversity initiatives, and promoting positive visibility within the engineering and technology communities, including college students and the public-at-large. RIT is one of hundreds of universities, corporations and government agencies involved in the national program and has had regular involvement over the past few years by staff from the Kate Gleason College of Engineering, College of Applied Science and Technology and the B. Thomas Golisano College of Computing and Information Sciences.
This year's theme is Engineers: Inspiring Wonder and is a way to influence the next generation of students to learn more about how engineers are creative problem-solvers and design devices that influence people's lives—from assistive technologies to autonomous vehicles. At RIT, these devices are being developed and the students in the engineering college are learning firsthand about new technologies being implemented in U.S. companies.
Family Day is sponsored by the engineering college and its ECCO initiative—Engineers of Color Creating Opportunities. ECCO programming began in 2016 and is focused on increasing the number of under-represented students by providing multiple academic and social support programs throughout the year, including K-12 outreach. Family Day event is free and open to local middle school students and their families. Registration is required and can be done by contacting the engineering college by email at kgediversity@rit.edu. Additional events hosted by the engineering college can be found online.