Lacrosse teammates stick together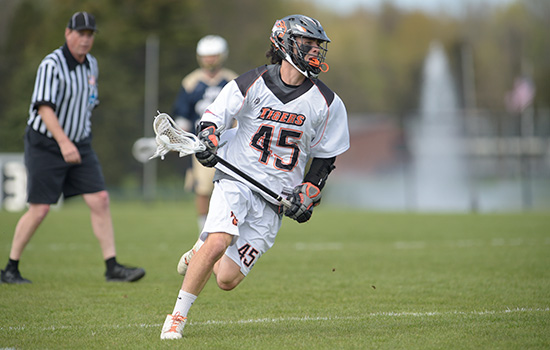 RIT Athletics
Teammates and best friends since preschool, RIT men's lacrosse standouts Ryan Lee and Chad Levick have terrorized opposing defenders and goalies for nearly 20 years.
The two, more brothers than friends, have helped the RIT Tigers become one of the finest college lacrosse programs in all of Division III.
Lee and Levick first met in 1997 at the first day of practice for a Newmarket Peanut House League that was coached by Levick's father, Dan.
"We started playing together the first day of house league when we were about 4 years old," said Lee, a fourth-year finance major student from Sharon, Ontario, Canada. "Chad's dad was our first coach, and coached us until we were about 15." The two families live about five minutes apart in Ontario.
The "Dynamic Duo" formed a bond that first day that has developed over the years and helped them hone their teamwork.
"I pretty much know where he is on the field," said Lee. "I don't have to look up to see where he is before I pass it. I just know sort of know what his tendencies are and where he will be."
That sixth sense of where the other is on the field comes from being teammates and friends all these years.
"These two certainly have great chemistry having been friends for so long," said RIT head men's lacrosse coach Jake Coon. "They always seem to look for one another and know where the other is on the field."
Both were heavily recruited by Coon to come to RIT. Lee liked RIT on his first recruiting visit and decided he wanted to be a Tiger. Levick played his first year of college lacrosse at Division II Mercyhurst University in Erie, Pa. That was the only year—2014—that Lee and Levick were not on the same team.
"It was different that year," said Lee. "It was weird not having him there to pass to."
That summer, Lee called and told Levick RIT could use him on the team.
"I jumped at the chance," said Levick, a business major. And RIT is glad he did. In the two seasons that Lee and Levick have been Tigers, the duo has led RIT to a 39-3 overall record, two Liberty League championships and two trips to the NCAA Division III Tournament. Lee is third all-time at RIT with 264 career points and 173 goals, while Levick sits in 40th all time with 125 career points and is seven goals shy of 100 for his career.
It has been quite the journey for the teammates, one they hope to continue into May at the NCAA Division III National Championship.
"It has been a great ride," said Lee. "We still have more games to play this year, but it's been a lot of fun."
"It's been a crazy journey," added Levick. "We have had our ups and down, but mostly ups. I wouldn't change a thing."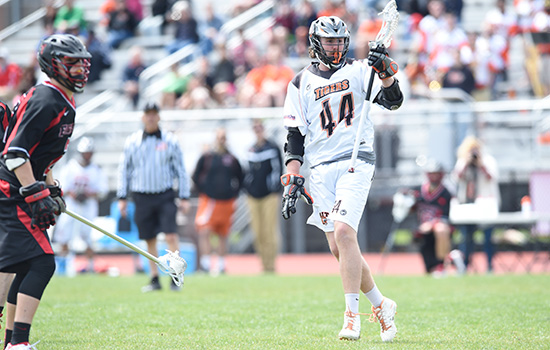 RIT Athletics