Learning from experience
RIT partners with charter school to prepare students for college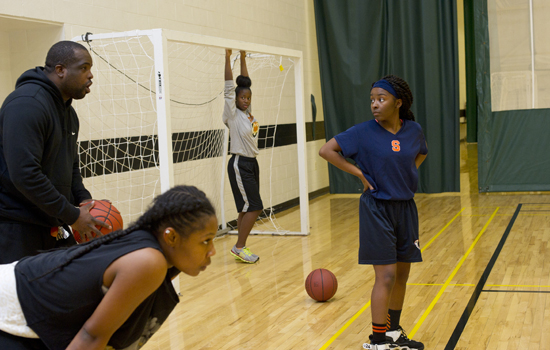 Rochester Prep High School (RPHS) ninth and 10th grade students don't seem to mind getting up in the predawn hours, donning uniforms and catching the bus for the long school day that runs from 8 a.m. to 4:10 p.m. And they simply shrug at the mention of an extended 190-day instructional year that begins in late August and finishes at the end of June.
"I love coming to school," said Jahnury "J.J." Acosta, a self-professed ninth-grade "geek" with a 93 average who said he would love a career in video game design. "RIT piqued my interest in the fourth grade and I knew it would be the right place to study animation and programming. That's where I want to be after high school."
Real city kids, real learning gains and real advantages are strong indicators of RIT's commitment to urban education at its partner charter school at 175 Martin St. Since opening its doors to 40 freshmen in fall 2014, RPHS, run by Uncommon Schools, is on a four-year growth spurt to encompass nearly 500 students in grades nine-12 by 2018.
Serving mainly low-income families, the majority of which are black and Hispanic, the school operates independently from the Rochester City School District and is publicly funded so students do not pay tuition.
"RIT's partnership with Uncommon Schools is a unique collaboration between our university and Rochester city students currently in the charter school system," said Kit Mayberry, RIT vice president for strategic planning and special initiatives.
"Our ultimate vision is to teach these students the fundamentals of college preparedness, offering them the resources and support to bridge the gap so they can attend a university of their choice and become first-generation college graduates. We are in this for the kids; we want them to succeed."
The university's alliance with Uncommon Schools was made possible by a donation from RIT trustee Ronald L. Zarrella, former chairman and CEO of Bausch & Lomb, who is funding RIT's contributions to the partnership.
During the past two years, RIT has taken an active role in providing faculty, student tutors, advisement on curricula, and exposure to courses and careers in STEM fields of science, technology, engineering and math.
RIT also launched a digital art class led by teachers associated with the College of Imaging Arts and Sciences, Charles Doerflinger '87, '15 (graphic design, visual arts) and Kristin Nastav. As Doerflinger described the course, "Art is required for ninth and 10th grades, but we added technology to introduce students to computers, software, programming and game design."
Helping them manage classroom activities are CIAS undergraduates—including Rachel Dominic, a third-year advertising photography major from Baldwinsville, N.Y.
"I like helping the students with the design projects, but sometimes there's a little bit of a frustration level because it may be their first time using a computer," said Dominic. "From learning how to turn it on and signing in to learning Photoshop is a huge learning curve."
Nastav said Uncommon Schools' growth model, adding a new class to the high school each year, has worked well.
"Design is my element, but the whole inner-city aspect is a real challenge in teaching because many students experience social and emotional issues beyond their control," she said. "In the classroom we provide them with structure and discipline and give them clear directions so they know what's expected of them."
Or as Caton Conde, a 10th-grade English Language Arts teacher said, "Consistency is key at Rochester Prep and we have a set protocol for behavior; we don't operate on excuses. We want students to have a rich high school experience and deep down they know we have their best interests at heart."
Under the helm of Principal David McBride and Director of Operations Laura Wilkinson, RPHS is results-driven—with a focus on professional development for teachers and a meticulous use of data to track student achievement and target resources when needed. The staff fully recognizes they are there to educate the hardest-to-educate kids, who are statistically behind.
"We are a school, a place to learn, so every day is a chance to get better and smarter," said Michael Sherry, associate chief operating officer for Uncommon Schools in Rochester. "RIT is an incredible partner in helping us close the achievement gap for these students—and showing them that the world is a much bigger place."
The bigger place, of course, is having opportunities to navigate the RIT campus and visit classrooms, labs, dining halls and sports facilities.
Tenth-grader Justice Marbury is on the RPHS-JV basketball team and uses the Gordon Field House as an after-school practice site several times a week. She also participated in a special photojournalism project led by RIT Professor William Snyder '81 (photography), photojournalism program chair in the School of Photographic Arts and Sciences.
"We first had to learn how to use a camera, and then took a field trip to Hemlock World's Fair to take pictures and had to go up to people and interview them," said Marbury. "The experience forced me to make a direct connection with someone I didn't know— and the opportunity made me realize I'd like a career in photojournalism."
Jordyn Turner, a ninth grader with a 95 average, said she enjoys field trips to RIT. "You can get lost there," she said with a laugh. Her interest is writing. "I want to go to Harvard or Yale."
As Anna Hall, chief operating officer of Uncommon Schools, said, "The question always is, are we doing the right thing in order to change the trajectory of Rochester Prep students and education in Rochester?
"We don't have all the answers. But with RIT's incredible commitment, resources and high-quality, innovative approach to education, we are seeing great things happen. It can only get better."