Legacy families uphold RIT traditions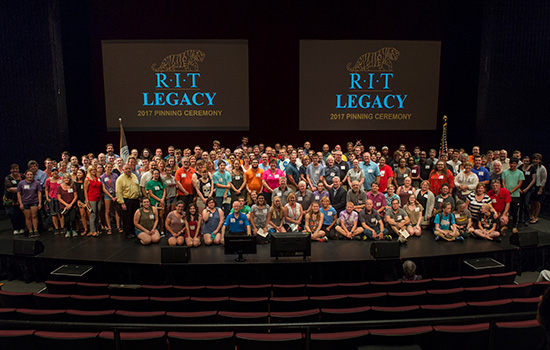 Elizabeth Lamark
Chernee Vitello was worried when the thin envelope arrived from RIT for her son, Peter. Thick envelopes traditionally indicate an acceptance letter.
The bachelor's degree program Peter applied for, game design and development, is ranked second in the world by The Princeton Review and is extremely competitive. And RIT was Peter's first choice. He has been hearing about RIT all of his life from his alumni parents and their alumni friends.
"Mom screamed at me that there was a letter and I was so concerned because I thought she already read it and I was declined," Peter said. "Then I opened it and I saw I was accepted."
"We were all just crying and hugging and just so happy for him," said Chernee, tearing up at the memory. "We are just so pleased."
Peter, a first-year student, is one of more than 600 legacy students currently enrolled at RIT, up from less than 200 in the mid-1990s and less than 100 in the early 1980s.
Children of alumni aren't given preference when it comes to admission decisions. But they do get a few perks, including an invitation to a pinning ceremony where the legacy parent or grandparent presents his or her incoming student with an 1829 pin to symbolize that they are carrying on the family's tradition of academic excellence. They are also eligible for the RIT Alumni Legacy Scholarship and can move in a day earlier than most of the incoming freshmen.
For the Vitello family, sharing the same college experience is what is important. Chernee '94 (marketing) and Steve '93 (professional and technical communication) met Chernee's first day on the RIT campus when she reported for work at the T&E Center (the Technical and Education Center of the Graphic Arts), where Steve was employed.
They started dating a few months later and began hanging out with a close group of friends they met through Alpha Epsilon Pi, Steve's fraternity.
Richard Winter '93 (chemistry) was Steve's big brother in the fraternity. He married Suzanne Winter '90 (food management) and they have three children. Richard, who now works for Frontier Communications, and Suzanne met on April 29, 1989.
"Someone introduced us at a party and said, 'Sue, Rich; Rich, Sue,' and that was it," Suzanne said. "We have been together ever since that night."
Their oldest son, Robert, is a third-year student at RIT studying chemistry and is friends with Peter. Suzanne also works on campus at The Corner Store as manager of residential stores.
"Peter has a friendly face to see every day and someone to look in on him when he needs it," said Chernee, who lives with her family in Geneseo, N.Y.
Peter also has two other family friends on campus. A third couple the Vitellos hung out with during college, Eric Miltsch '92 (professional and technical communication) and Susan Miltsch '94 (social work), have two sons attending RIT. Parker is studying new media design and Cooper in majoring in illustration.
"I love that we all have sons at RIT," said Susan Miltsch, a retired social worker who lives in Henrietta, N.Y., with Eric, a founder of software company Dealer Teamwork. "I have always loved that school and I'm happy my kids are there."
Waive the application fee
Alumni can request an application fee waiver for a prospective student. The voucher is good for one fee-waived RIT application for undergraduate admission per year. Go to www.rit.edu/alumni/volunteer/feewaiver.
To learn more
For more information on the RIT Alumni Legacy Endowed Scholarship, go to rit.edu/alumni/benefits and look under educational benefits.