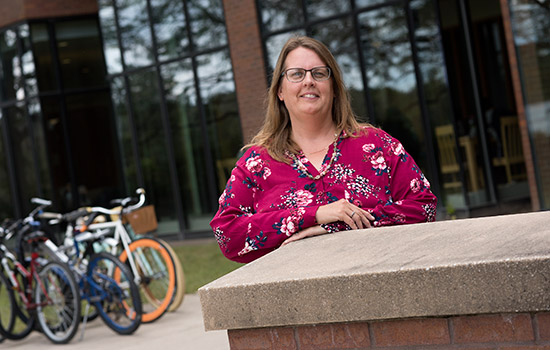 A. Sue Weisler
Registration, enrollment changes, student demographics, curriculum demands, faculty requirements and classroom space require constant monitoring and adjustments each semester at RIT.
This is where Linda Chamot's job as scheduling officer for Saunders College of Business gets a bit hectic. She has to ensure bottlenecks are averted and that courses and classrooms are scheduled to support the needs of students, faculty and the university at large.
"A big part of my job is getting all the puzzle pieces to fall into place and making sure students graduate on time," said Chamot, who has spent the past 17 years at RIT doing just that. "Scheduling at RIT has changed over the last few years with the move to semesters, first using PeopleSoft and now the implementation of the Event Management System."
At Saunders College, Chamot works with 51 full-time faculty and numerous adjuncts, manages 263 courses and works eight months ahead of schedule. In her solo position, she gets reinforcement from the Registrar's office and enjoys the teamwork of 13 scheduling officers from across campus.
The Henrietta native and mother of four grown children clearly loves a challenge—even the personal kind. Chamot, who earned an associate degree in liberal arts from Monroe Community College in 2005, decided to go back to school and complete an applied arts and sciences degree from the School of Individualized Study this fall. She received the 2017 Difference Maker Award from Saunders College and was one of the university's top 1 percent (with a 3.89 GPA) to earn RIT's 2017 Outstanding Undergraduate Award.
"The SOIS degree gave me the flexibility to explore what I wanted to learn," said Chamot. "I am concentrating my efforts on the benefits of volunteerism for my Capstone project. I found out that giving back to RIT and the community was what I love doing most. It has changed how I view the world."
Chamot has volunteered for RIT's United Way campaign, Imagine RIT, commencement, Saunders College events, as well as at Rochester's Foodlink. "Someday I'd like to go outside my comfort zone and be part of a disaster relief team for the Red Cross," she said. "Volunteerism demands commitment, but if you have one or two hours to spare, you can change someone's life—and your own."
Most people would never guess that Chamot is an avid NASCAR fan—and has traveled to races in Charlotte, N.C.; Concord, N.H.; Daytona, Fla.; the Poconos; and Watkins Glen, N.Y.
"It's like watching a soap opera and you get to learn all the dynamics of human nature—the competitiveness, the brains behind the aerodynamics and engineering, and the drivers who are big supporters of community and charities. There's excitement, fun and a challenge; I can relate to all three."
Linda Chamot
Job title: Scheduling Officer, Saunders College of Business
Years at RIT: 17
What I like best about working at RIT: I love my job and knowing my volunteerism has a positive impact on people's lives.
Nominate a co-worker
Staff Spotlight features some of the people who make RIT a special place to work.
Do you know a staffer with an interesting story? Have a colleague who goes above and beyond in his or her daily work?
Send your nominations to athena@rit.edu. Be sure to include the person's name, the reason he or she deserves to be featured and an email address where we can reach you.