MAGIC's Co-Up program helps students bring their passions to life
Five student-driven projects evolve from ideas to reality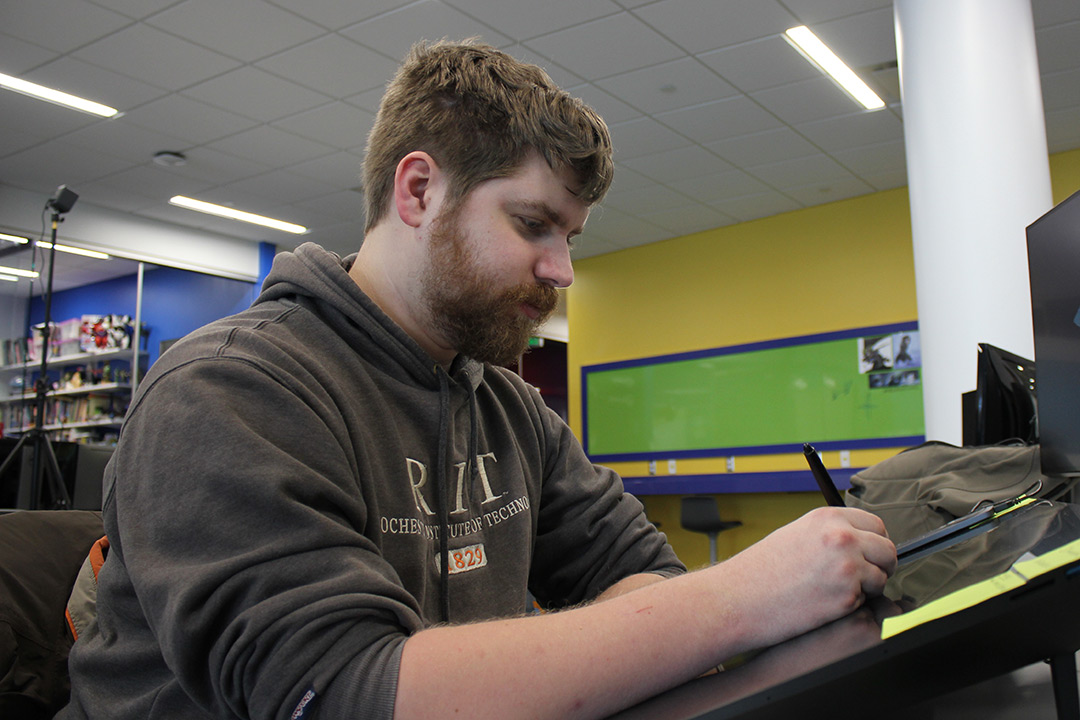 Melissa Tuttle
Many people have a project they would like to create, but not everyone has access to the resources needed to accomplish it.
Rochester Institute of Technology's Center for Media, Arts, Games, Interaction and Creativity (MAGIC) created the Co-Up program so it could provide these resources for students to realize their passion projects. This year, the Co-Up students are able to take advantage of the new MAGIC Spell Studios facility to accomplish their projects.
Jennifer Hinton, assistant for the RIT MAGIC Center, said the Co-Up program and the new MAGIC building are a great asset for students.
"What we are trying to do is provide a safety net so students can take risks on their own ideas," said Hinton. "Students can explore different ideas without having to worry about running out of resources or going out of business."
The Co-Up program, made possible by contributions from members of the RIT Board of Trustees, is a unique opportunity for students. Rather than working on a company's idea or design as one would in a traditional co-op, they can pursue their own interests.
"It is self-directed and driven by the student. We aren't telling them what we want the outcome to be; we are helping them achieve their desired outcome," said Hinton. "It gives students a sense of agency and control over the destiny of their project."
In the past, the Co-Up program was strictly a summer program. Now that they have more space and resources in the new MAGIC building, Hinton and her colleagues are planning to expand the program and accept new student projects every semester and continue to expel the idea that MAGIC is an asset for only video game design and development.
"MAGIC grew out of the School of Interactive Games and Media, but we are charged with digital media research and production, and that is a pretty broad spectrum," said Hinton. "People often ask what type of skills or majors we are looking for, but really it all boils down to one thing: We want people who are passionate about making. Your major does not define that."
Andre Green, a sixth-year illustration major, is a perfect example of MAGIC's diverse student projects.
Green is editing his pilot issue and will create and print the first three issues of his comic series, Hellbound. This is the first comic-based project that the Co-Up program has accepted since it began.
Green's comic tells the complex story of a demon-hunter who happens to have demonic ancestry and a demon-child whom she is charged to take care of.
Andre Green
"It's like a cool mother-daughter story," said Green. "The whole story in general is about morals, like the dichotomy between good and evil, right and wrong and what makes a family a family. There are a lot of themes on mental health, relationships, trust and betrayal, religion… and it has a healthy amount of gore."
Green heard about the Co-Up program through an email that was sent to College of Art and Design students.
"You always hear about the MAGIC program and 99 percent of the time you're hearing about game development and video games, but you rarely see the more traditional art side of things, especially comics," said Green. "Working on my comics was something that I would be doing anyway, so when I heard about this opportunity I decided to apply anyway and got accepted."
While Green would have been working on his comic regardless of his involvement in the program, the unique environment MAGIC provides has helped make his progress easier.
"Everything you need is right here. Whether you need people to talk to, different opinions, or materials and resources, it's all right here and you don't have to find it yourself," said Green. "Right now, this is honestly the best situation I could be in with my comic until I can sign and contract with a publisher. It's a pretty good feeling."
Green's project is just one of five that the Co-Up program has accepted this year. Other projects include:
Elderberry: John Blau, Matthew Barry, Barrington Campbell, Kally Mihova, Michael Zadok and Elizabeth Dettmann
Elderberry Trails is a top-down adventure game starring a young lumberjack and her journey through a cursed woods. When one day her cabin is trashed by troublesome globs of Elderberry goo, she takes it upon herself to travel the Trails, find the forest's source of corruption, and rid the woods of an old, twisted tree. Elderberry Trails takes common woodland spaces and elements of European folklore to create an autumnal journey imbued with danger and whimsy.
Spirit Labyrinth: Andrew Brook, Ray Schefferine, Justin Connolly, Nicholas Zehl and Jonathan Mura
Spirit Labyrinth is a procedurally-generated virtual reality dungeon crawler where the player must dive deep into the lair of a body-snatching Necromancer. Taking your body for his future vessel, your soul is left trapped in a mysterious decrepit town, with the only salvation being through conquering the Necromancer's magical labyrinth and regaining what is yours. Find adventure and surprises around every corner in a fully interactable virtual environment, uncover the story of what was once a vibrant kingdom, and meet new friends in unexpected places within a game that takes full advantage of the virtual reality experience!
Isomcraft: Burhanuddin Beawerwala and Naveen Sampath
Isomcraft is a 3D mobile puzzle game for both Android and iOS. In this game, you explore various building architectures with famous skyscrapers from across the world and solve puzzles in order to reach the top. Isomcraft is an experience that will both challenge the mind and make you appreciate the beauty of the architecture behind these buildings.
The itch: Dane Sherman
The Itch is a 2D platformer centered around using heart rate as a resource to make objects move, grow, and shoot in order to reach a doctor who can cure a deadly virus. The path to the doctor is full of obstacles as you traverse cavernous environments filled with plant life and people.
Topics
interdisciplinary studies