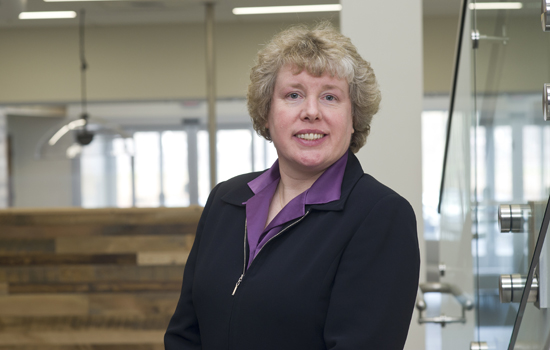 A. Sue Weisler
Job Title: Facilities and Lab Manager, College of Health Sciences and Technology
Years at RIT: 26
What I like best about working at RIT: All the different collaborations I get to have.
---
If you're in the College of Health Sciences and Technology and need a cell line for a lab study, a new chair for an office or repairs to a faulty light switch, Kim Corbett is the one to call. As the facilities and lab manager, she oversees more than 160,000 square feet in RIT's buildings—41,000 in the new Clinical Health Sciences Center, 35,000 in the Center for Bioscience Education and Technology and 85,000 in Institute Hall.
Despite her title and responsibilities, Corbett's job focuses on people: She serves as liaison with the numerous vendors and tradesmen who provide and maintain equipment and materials for the college's physical operations.
"Everyone thinks it's all bricks and mortar, but it's not," Corbett said. "It's dealing with coordination. The diversity and number of people I interact with change all the time. It's definitely an interesting job."
Corbett ensures that staff, faculty and students have what they need—that varies from laboratory supplies such as chemicals, centrifuges and human tissue to more mundane necessities such as desks, computers and heating. She played a key role during construction of the Clinical Health Sciences Center and the subsequent move into the state-of-the art building. Early on, she rubbed elbows with the architect, project manager and contractors and later collaborated with staff and vendors to select equipment, furniture and decor.
The biggest challenge, she said, is seeing that repairs, installations and maintenance are accomplished swiftly, with minimal disruption to students and classes: "You have to figure out what needs to be done and make it happen."
Corbett received an associate degree from Finger Lakes Community College and a bachelor's in biotechnology from RIT. She started working at RIT in 1989 as a laboratory and operations manager in life sciences; she has been in her current position for three years.
"I can't think of anything she can't tackle," noted Richard L. Doolittle, vice dean of the College of Health Sciences and Technology.
The two have orchestrated three new building projects in 15 years of working together; Doolittle said he has come to rely on Corbett's flexibility, decisiveness and skill in acting as the "point person" with architects, builders, plumbers and others.
"You can't ask for a better colleague than someone who knows her job and does it," he said. "She's been a tremendous asset."
Nominate a co-worker
Staff Spotlight features some of the people who make RIT a special place to work.
Do you know a staffer with an interesting story? Have a colleague who goes above and beyond in his or her daily work?
Send your nominations to athena@rit.edu. Be sure to include the person's name, the reason he or she deserves to be featured and an email address where we can reach you.