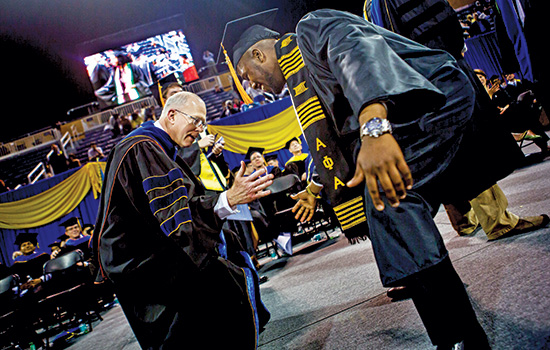 Joseph Xu
The next president of RIT is an electrical engineer, entrepreneur, mathematician, researcher, teacher and musician. David C. Munson Jr. grew up in Iowa, Ohio and Delaware and went on to a distinguished career in academia, most recently as the Robert J. Vlasic Dean of Engineering at the University of Michigan, overseeing one of the top-ranked engineering programs in the world.
What else do we know about RIT's new president?
His career
Munson started in 1979 as an assistant professor of electrical and computer engineering at the University of Illinois. He left there in 2003 to become chair of the Department of Electrical Engineering and Computer Science at the University of Michigan. In 2006, he was named the Vlasic Dean.
His leadership accomplishments
At the University of Michigan, he led a college of 10,000 students, 600 faculty members and 600 staff members, with a $550 million budget. Annual research expenditures nearly doubled to $250 million, and faculty ranks grew by 30 percent with aggressive hiring and retention programs.
Munson and his team launched the university's Center for Entrepreneurship; worked to develop the Joint Institute with Shanghai Jiao Tong University in China; created the Michigan Engineering Zone in Detroit, with undergrads and alumni mentoring 300 minority public school students on FIRST Robotics teams; and worked to establish the ArtsEngine program between the College of Engineering and Michigan's schools of Music, Theatre and Dance; Art and Design; and Architecture and Urban Planning.
His honors
Munson is a fellow of the IEEE, a former president of the IEEE Signal Processing Society, a recipient of multiple teaching awards, and the recipient of the Benjamin Garver Lamme Medal from the American Society of Engineering Education in 2016.
His area of academic expertise
In the research world, Munson is highly regarded in several areas of signal and image processing. He has spent much of his research career working on imaging systems, particularly synthetic aperture radar (SAR).
Personal information
Munson, 64, is married to Nancy Munson, who is a former nurse, an avid runner and a volunteer. They have four sons and four grandchildren. Some of his fondest childhood memories were reading Popular Science magazine, peering at the rings of Saturn and building rockets made from cardboard tubes and balsa wood.