Music lessons let students hone skills, reduce stress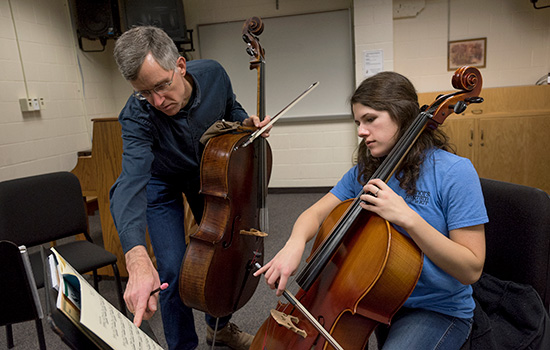 A. Sue Weisler
Walk in the basement hallway of the College of Liberal Arts and you're likely to hear piano, cello, brass or violin as some 100 RIT students receive weekly private music lessons for college credit.
That's where Grace Fiacco, a second-year physics major from Lewiston, N.Y., receives cello lessons from Christopher Haritatos. During her 45-minute session, Haritatos suggested arm positions, pointed to sheet music with his bow and told Fiacco to avoid collapsing her knuckles on the cello's neck.
"I've been playing cello for a long time but never had private lessons until I came to RIT," said Fiacco, who plays in the RIT Orchestra. "It's helped me a lot. I enjoy it and it's a great stress reliever."
Professor Jonathan Kruger, chair of the Department of Performing Arts and Visual Culture, said the lessons are offered for students who already know how to sing, or play. Most of the students are members of a music ensemble on campus.
Beginner piano and guitar lessons are also offered in hopes of "casting a wider net to the RIT community to engage them in musical activities in general," Kruger said. He said there has been an increase in recent years of students wanting to learn piano and guitar.
The 11 adjunct professors who offer the lessons are professional musicians.
Haritatos, a member of the Rochester Philharmonic Orchestra, has been teaching cello at RIT for about five years. He calls his students enthusiastic.
"I know my students aren't going into music as a profession, but I see them improving their skills. And when they graduate, hopefully they'll keep playing for the rest of their lives."
Eddie Locke, a second-year physics major from Bellevue, Wash., plays violin in the RIT Orchestra and the Game Symphony Orchestra. When he applied to RIT, he thought only students studying music as a minor could enroll for lessons, so he was pleased to learn they were available to students in any major who are in a campus ensemble.
"I like to play music because it helps take away from the stress of coursework, which can be quite rigorous at times," Locke said. "Playing music that I enjoy contributes to the overall experience I get out of playing. If someone gets enjoyment from my music, then that is an added extra as well."
Alexis Emma, a fourth-year illustration major from Smithtown, N.Y., has taken voice lessons for two years—which helps her in productions with the RIT Players. She credits her teacher, Amy Cochrane, for her progress.
"Oh my gosh, I've learned so much," Emma said. "Amy knows her stuff. I've learned about my body and how it works, and how to use my chest, my neck and jaw and how to stand."
Jessica Szutu, a first-year packaging science major from Danville, Calif., learned about the availability of lessons after she joined the Flute Ensemble.
"I've been playing flute since fourth grade and piano since I was 5," she said. "I wanted to continue music in college. It's fun, and a part of who I am."