New residence hall opens at Global Village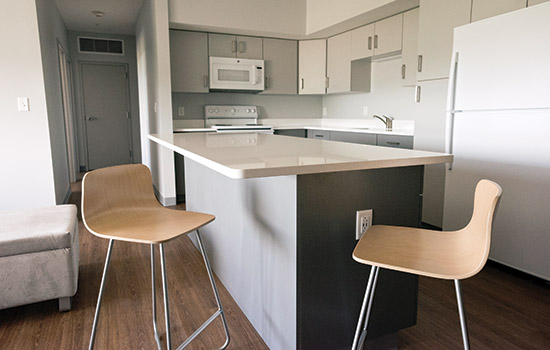 A. Sue Weisler
A new four-story building featuring keyless entry, four-person suites and spacious studio apartments will be home to 144 returning RIT students this year.
The building, officially called Global Village 405, is similar to neighboring residential buildings 403 and 404.
Carla DiLella, executive director of Housing Operations and Global Initiatives at RIT, said the student residents, mostly sophomores, were assigned to the new housing last fall.
"I'm glad to see that RIT is expanding the options students have," said RIT Student Government President Farid Barquet. "Living on campus is more convenient, but we didn't always have the capacity to hold everyone, so I'm glad to see we're expanding more of the on-campus housing that we have to offer students."
Construction of the four-story building began in May 2016 even before final designs were completed. Changes were incorporated following feedback from students and various RIT departments.
The ground floor features spacious studio apartments for individuals, a vending area and laundry room.
DiLella said the second, third and fourth floors have four-person suites, each with individual bedrooms, two bathrooms and shared kitchens and living rooms.
All of the units are fully furnished and feature climate control and USB charging capabilities, as requested by students.
The building is also the first on campus to feature keyless entry. Residents use an app and Bluetooth technology to access their rooms with their phones.
Collaboration spaces are on the second and third floors, with mobile work tables and benches. A lounge featuring a 90-inch television is on the fourth floor.
DiLella said the building was constructed to help address the need for on-campus housing as RIT's enrollment steadily increases. More than 7,200 students live on campus, either in dormitory buildings or in about 1,000 existing apartments.
"We're meeting the needs of the students who like to be on campus," said Howard Ward, associate vice president for Student Auxiliary Services. "As our academic programs and the quality of student services increase, students want to stay on campus. We try to accommodate all the students who want to stay on campus."
The next new apartments on campus are likely to be built in the next two or three years where the existing Riverknoll apartments are located, Ward said. Plans are now in the discussion phase, but construction could begin in a year or two.
"The area around Global Village is prime real estate," Ward said. "The students want to be there and we're going to make sure the living arrangements are high level."