New signs point the way while honoring RIT icons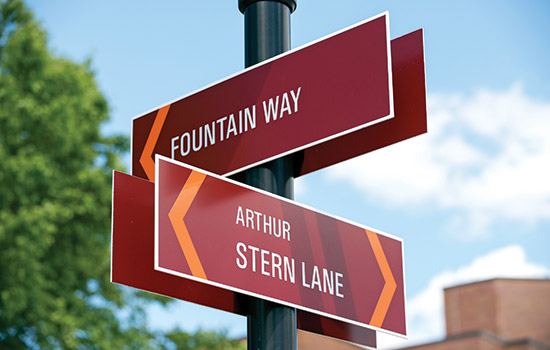 A. Sue Weisler
Have you ever grabbed a sandwich near the corner of Hans J. Christensen Lane and William & Mortimer Reynolds Drive? Do you know what building you'll find where William Peck Lane and Leo Smith Way meet? You will find Ctrl Alt DELi and the Bausch & Lomb Center at these intersections, respectively, but until recently you may have never heard of those walkways.
Just before the Imagine RIT: Innovation and Creativity Festival took place, 142 walkway signs sprouted up in 42 locations across the school grounds. A wayfinding committee of staff from across campus created these markers as part of an effort to make the 1,300-acre Henrietta campus easier to navigate. The signs will serve as the foundation for further enhancements to make the campus more maneuverable, including enhancements to the interactive campus map accessible via smartphones and digital signage.
Many of the walkways were dedicated years ago to commemorate some of the university's most important leaders and pioneers, and the signs now serve as reminders of the past. Not all thoroughfares on campus are named after important figures, however. When the project began, the team found that many of the walkways did not yet have names. With guidance from senior leadership, the team devised names for paths including Tiger Pass and Winding Way. Causeways like this were given descriptive but general names so that in the future they can be renamed to acknowledge additional RIT icons.
Now that the signs are up, the wayfinding team can work on more high-tech ways to improve navigation across campus. RIT's Information and Technology Services recently implemented a Google Maps application programming interface and has updated the mapping service with the campus walkway names. This allows the interactive map available at maps.rit.edu or on the RIT mobile app to provide more elaborate turn-by-turn descriptions. That capability could open the door for digital signage similar to those found in shopping malls to replace the static maps that are currently located across the campus.
It took collaboration from leaders across the university to achieve these steps. "This project is unique because while there is a technical component to it, the project also impacts the campus architecture, there are branding and marketing aspects to it, and we need to properly honor RIT's benefactors," said Michelle Mullen, senior project manager from ITS who has managed the wayfinding project. "Even after we complete our short-term goals, the committee will continue to exist to update our signage and wayfinding tools as the campus grows, make sure they are usable for visitors, and ensure they provide ties to RIT's donors, trustees and supporters."
What's in a name?
Many RIT walkways are named for people who had an impact on the university.
Dorris Carlson Way—wife of Chester F. Carlson, inventor of Xerography
Hans J. Christensen Lane—School for American Crafts professor who created the ceremonial sterling silver collar used by RIT presidents on formal occasions
Ron Francis Way— a former Center for Imaging Sciences professor
Mary Havens Lane—the second librarian of the Mechanics Institute, which was renamed Rochester Institute of Technology in 1944
William Peck Lane— a founder of the Mechanics Institute, supported the merger with Athenaeum in 1891
William & Mortimer Reynolds Drive— founded the Rochester Athenaeum and Mechanics Association
Leo Smith Way—helped develop RIT's first associate, bachelor's and master's degree programs and create the Counseling Center
Arthur Stern Lane—chairman of the board of trustees from 1961 to 1976 who helped orchestrate RIT's move to Henrietta.