Newest Ph.D. has long history in imaging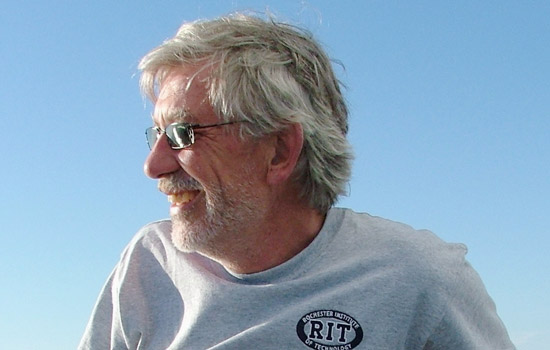 ONLINE EXCLUSIVE
The first year was difficult, says Rodney Heckaman, the latest person to earn a Ph.D. from RIT.
"My wife called me a ghost," he says. "She never saw me."
That was 2003, when Heckaman, approaching age 60, began working toward a doctoral degree in imaging science. Between classes, homework and projects, he typically logged just a few hours of sleep each night.
He liked the work, the environment and, especially, the other students and the professors in the Chester F. Carlson Center for Imaging Science. "The people here are brilliant," he says of the faculty. "And I love working with the students; they have such great insight."
Heckaman proved to be an outstanding student, winning the prestigious Macbeth-Engel Fellowship for his educational excellence. He focused in the area of color science; the intriguing title of his doctoral thesis is Brilliance, Contrast, Colorfulness and the Perceived Volume of Device Color Gamut. His image processing work has implications for improved display media of various types, including cinema and video.
"The technology is growing so fast that soon we will be able to see displays that have the look of real life," he says.
Despite being the oldest Ph. D. candidate anyone can remember, Heckaman was treated like any other student, says his Ph. D. adviser, Mark Fairchild '86 (imaging science), professor, Munsell Color Science Laboratory. "He was a very good student," says Fairchild, "very involved in research we're doing and working with other students."
Before coming to RIT, Heckaman spent 32 years as a product development engineer at Eastman Kodak Co.; among many projects he worked on were the Advanced Photo System (APS) as well as the disc photo system that became a billion-dollar product for the company.
But when the opportunity came to take early retirement, he was not reluctant to leave. "We all went into the auditorium and they said 'Any volunteers?' I must have been the first guy on the stage."
He tried his hand at consulting and worked on a couple of dot-com companies. But eventually, he was ready for something new. It was Heckaman's friend and neighbor, RIT Criminal Justice Professor John Klofas, who steered the former Kodak engineer to the Ph.D. program.
Klofas is not surprised that Heckaman did so well in the program. "He's a very talented guy with very broad interests," he says. "I have no doubt it was difficult, but he's the kind of guy who enjoys a challenge. He could never just sit around and do nothing."
Although he's completed the Ph.D., Heckaman won't be leaving RIT any time soon. He's been asked to stay on as a post-doctoral researcher.
"I get to stay here and keep working. It's amazing to me."