NTID establishes first NSF Deaf College Innovation Bowl
Competition will showcase innovations by deaf students from across the country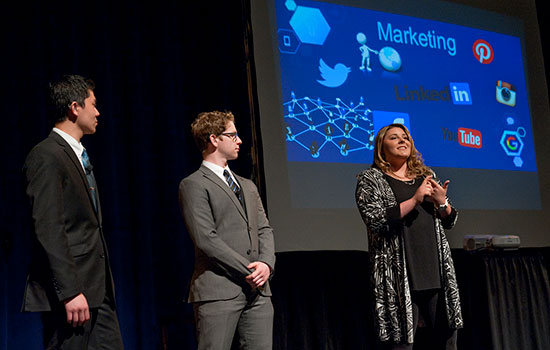 Deaf and hard-of-hearing college students with innovative product ideas can compete to earn cash and business expertise, thanks to Rochester Institute of Technology's National Technical Institute for the Deaf. The college has established the first NSF Deaf College Innovation Bowl, sponsored by a National Science Foundation I-Corps grant and administered by RIT's Simone Center for Innovation and Entrepreneurship and RIT/NTID. The competition will showcase innovative ideas of deaf students from throughout the country centered around technological solutions that are STEM (science, technology, engineering or math) based.
For the first phase, each team is asked to submit a 10-minute video describing its idea. The three top college teams will receive $3,000 in I-Corps funding to develop their ideas.
In addition to the start-up funds, each team will receive prototyping assistance, training and mentoring from qualified I-Corps coaches to help them further strengthen their innovation. All training and mentoring will occur online and through accessible videos and other video technology.
For the second and the final phase, the three final teams will submit a second video after their idea has been refined through I-Corps training program and mentoring. A team of judges will select one winning team to be the Deaf College Innovation Bowl champion. This winning team will receive an additional 10 weeks of personalized coaching and mentoring through the I-Corps program and an additional $3,000 in funds for prototyping, travel and for student stipends.
"RIT/NTID has a proud tradition of encouraging and developing innovation and entrepreneurship among our deaf and hard-of-hearing students," said Scot Atkins, RIT/NTID professor of business and the Innovation Bowl program coordinator. "The I-Corps program and curriculum are designed to advance early stage commercialization of products in the sciences, technology, engineering and mathematics, or STEM, fields, which will help bring students' ideas to fruition."
Each team, represented by a college, must be made up of at least two deaf and/or hard-of-hearing members or led by a deaf or hard-of-hearing student. Team members must be matriculated full-time at the representative college at the time of application submission. Members of the team must be committed for up to one year to receive coaching from I-Corps. More than one team from a single college or university is permitted.
Each team must have a coach, or another designated representative from the college program. A coach may be a member of the faculty, staff or another designated representative. Team ideas cannot be based on an already existing operational business venture and must be STEM based.
The deadline for application submission is Jan. 26. More information can be found at https://www.rit.edu/research/simonecenter/nsf-deaf-college-innovation-bowl or by contacting Atkins at wsanbt@rit.edu.