NTID receives Motorola Solutions Foundation grant
Funding will be used to encourage enrollment in college's mobile application development program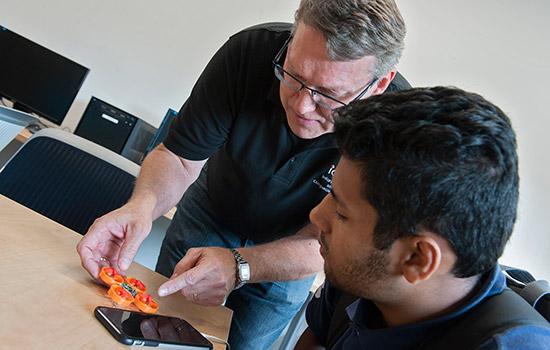 Mark Benjamin
Rochester Institute of Technology's National Technical Institute for the Deaf has received a grant for $30,000 from the Motorola Solutions Foundation, the charitable arm of Motorola Solutions Inc. Through the grant, RIT/NTID will support a new initiative to encourage students to enroll in NTID's new mobile application development program.
The Motorola Solutions Foundation awards grants each year to organizations, such as RIT/NTID, which support and advance public safety programs, and technology and engineering education initiatives. This year, programs that served underrepresented populations, including women, people with disabilities and veterans, were prioritized.
"The generous gift from Motorola will be used to build foundational math, English and basic coding skills to help us prepare students who are interested but not yet academically qualified for our mobile application development program," said David Lawrence, instructional/support faculty member in RIT/NTID's information and computing studies department. "With the grant, students will participate in engaging individual and team projects and competitions that require the use of math, reading, writing and coding skills."
This year, Motorola Solutions Foundation grants will support programs that help more than 2 million students, teachers, first responders and community members across the United States. Each participant will receive an average of 186 programming hours from its partner nonprofit organizations and institutions. Programs will support special populations including women; underrepresented minorities; the lesbian, gay, bisexual and transgender communities; people with disabilities; and veterans.
"Motorola Solutions Foundation is proud to support the work of RIT/NTID. As a leading technology company that supports the safety of communities worldwide, we know how important it is to educate tomorrow's technology professionals as well as enlighten civilians and first responders on today's safety needs," said Matt Blakely, executive director of the Motorola Solutions Foundation.
For additional information on the Motorola Solutions Foundation grants program, go to www.motorolasolutions.com/foundation. For more information about RIT/NTID, go to www.rit.edu/ntid.