NTID signs agreement with college in the Philippines
Collaboration enhances a strong tradition of academic partnership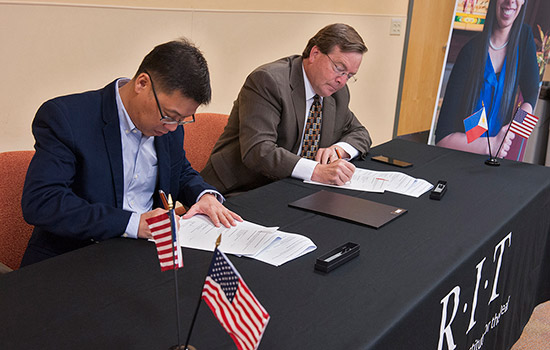 Rochester Institute of Technology's National Technical Institute for the Deaf and De La Salle-College of Saint Benilde (CSB) in the Philippines have signed a formal memorandum of understanding in order to strengthen their cultural, educational and research ties. The two colleges have partnered for the past 20 years to provide educational outreach for students who are deaf or hard of hearing.
The collaboration, designed "to enhance mutual understanding and promote academic collaboration and cooperation," will provide short- and long-term teaching and seminar development and other forms of faculty collaboration and exchange with several RIT colleges, including NTID, College of Applied Science and Technology and Saunders College of Business. Initial faculty collaboration will place special emphasis on the shared understanding of curriculum, teaching methods and research related to the education of people who are deaf or hard-of-hearing.
Representing RIT/NTID at the signing was Gerry Buckley, NTID president and RIT vice president and dean, along with NTID's Center for International Educational Outreach staff, led by Thomastine Sarchet. Chancellor Robert Tang and a delegation composed of CSB's vice-chancellor for academics, deans and directors from several programs and schools were in attendance.
"The linkages established through this and other MOUs recognize the inherent quality and value each partner offers and the synergy that can be created by such cooperative endeavors," Buckley said. "We are committed to further advancing our longstanding partnership with CSB and developing knowledge of the educational resources and research opportunities that exist between our institutions."
The partnership also will provide undergraduate and graduate degree programs, student exchanges, study abroad and an exchange of academic information with a focus on deaf education, access technology and support services.