NTID's Rosica Hall officially opens on campus
Building serves as a hub for innovation, research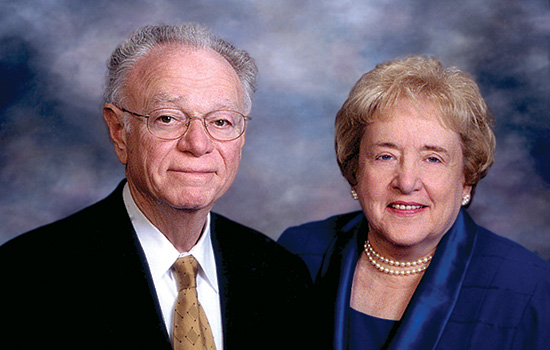 Supplied photo
The newest structure on the RIT campus, Sebastian and Lenore Rosica Hall, is devoted to innovation and research for students, faculty and staff of the National Technical Institute for the Deaf and RIT. The $8 million, two-story, 23,000-square-foot building officially opens Oct. 11, although offices were filling this summer.
The design of the building was done with the intention to make it deaf-friendly, incorporating a maximum use of natural light, open line-of-sight paths, safety features such as strobe lights, and minimalizing vibrations from the building's air conditioning and heating units. Philip Rubin, a former RIT/NTID student and architect in Palm Springs, Calif., gave recommendations prior to construction.
"We wanted to have deaf eyes on the building project from the beginning," says NTID Dean Emeritus Jim DeCaro, who conceived the need for Rosica Hall when he was interim president of NTID. When Gerry Buckley became president, DeCaro was assigned to represent the office of the president in the design, development and execution of the building.
"Rosica Hall is basically a sandbox where center-based research can take place," says Buckley. "It will be the hub for important work that will benefit generations of deaf and hard-of-hearing people, and I couldn't be more delighted that this dream has become a reality."
Some space has intentionally not been filled yet to make room for future research projects. But research centers and labs already active in the building include:
DeafTEC, formed in 2011 with a National Science Foundation grant to create a National Center of Excellence as a resource for schools around the country that educate students in science, technology, engineering and math.
The Research Center for Teaching and Learning, where diverse teams of faculty and students conduct research that will improve deaf education, expose students to research practice and prepare a future generation of RIT/NTID educational researchers and scholars.
Research on Employment and Adapting to Change Center for Studies on Career Success, which studies employment and career success for deaf and hard-of-hearing people.
The Deaf Studies Laboratory, which studies the cognitive, language and psychosocial aspects of the deaf experience and provides structured mentoring experiences for future deaf scientists.
The second floor of the building houses the Imaginarium, where faculty and students will gather to develop creative and innovative ideas.
A meditation garden is on the first floor, with native plants that provides a common area where people can sit and think in peace.
And Rosica Hall will be full of artwork, some commissioned specifically for the building and others from the permanent NTID collection of works by deaf artists.
Among the new artwork:
Finding the Rosicas, a large portrait of Sebastian and Lenore Rosica using more than 600 Rosica family photographs from the past 90 years, created by RIT/NTID alumnus Leon Lim. The family photographs represent the life of Sebastian and Lenore from their childhood through retirement.
Imagination, by RIT/NTID faculty member Jacqueline Schertz, who created this design to represent the emergence of a kernel of an idea that spreads into something much larger, much like the students and faculty collaborating on research in the building.
The Three Sisters, by Gary Mayers, made of stainless steel to hang from the lobby beacon, representing the Iroquois Confederation's "three sisters" that nourish the people: corn, squash and beans. In turn, The Three Sisters represent innovation, imagination and integrity within Rosica Hall.
Metamorphosis, by Scott Grove, represents the career development of an individual from student to professional. Three monoliths of blue stone, mined in New York, have perfectly aligned openings representing the core of humanity around which a life is built and the limitless potential of an RIT graduate.
Coded Spectrum, by Leo Villareal and purchased with a grant from Sprint Relay and a donation from DeCaro and his wife, Patricia Mudgett-DeCaro, is found on the walkway to the Dining Commons. It is a 5-foot-7-inch by 2-foot-5-inch panel of light-emitting diodes that changes color.
Mark Rosica, chair of NTID's Counseling and Academic Advising Services and a son of Sebastian and Lenore Rosica, says he is excited for the research and future discoveries that will happen in Rosica Hall.
"It's thrilling for all of us who knew and loved my parents to have this wonderful opportunity to honor their values of hard work and recognition of the need for quality higher education," he says. "The building was specially designed to enhance the learning and discovery of our deaf and hard-of-hearing students and is an outstanding facility that will help to level the playing field by providing a variety of research opportunities for our students."
---
Sebastian and Lenore Rosica lived most of their lives in the Buffalo area. Sebastian worked as an audiologist for 40 years at St. Mary's School for the Deaf there and Lenore worked as a speech pathologist. They inspired others with their passion about new technology, education and deafness, and made connections with deaf and hard-of-hearing people in all walks of life, their family says.
Two of their six children, Mark and Dan Rosica, work at RIT.
Lenore's brother was William G. McGowan, the CEO of MCI Communications Corp., who died in 1992. She served as chairperson of the William G. McGowan Charitable Fund for many years and passed away in 2009. Sebastian, who died in 2006, served as a trustee of the foundation, which distributes approximately $7 million annually; $1.75 million was donated to this project.
Video extra:
To learn more about Rosica Hall, go to www.ntid.rit.edu/rosica-hall/videos.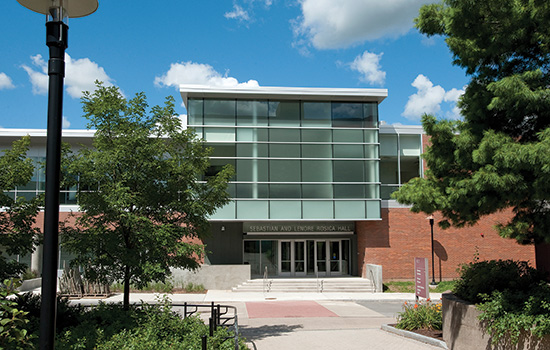 Mark Benjamin