Pep band grows as school spirit swells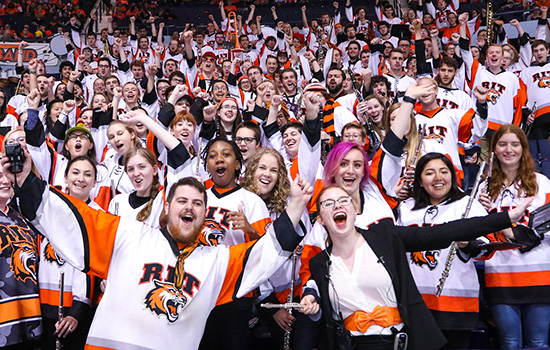 Ken Huth
When the RIT men's hockey team played during Brick City Homecoming & Family Weekend last October, 140 people were in the pep band cheering the team on.
It marked the largest attendance the modern pep band has ever seen since forming in 2006 with fewer than 20 members.
"We're a fun group. The only real requirement is you have to know how to read music and play your instrument," said club president Andrew Zgoda, a fifth-year mechanical engineering major and alto saxophone player from Williamsville, N.Y.
RIT also had a pep band back when it had a football team. Once the football program ended in 1977, the pep band also ceased.
The pep band was resurrected when it was felt RIT should have one for its Division I men's hockey team, which was formed in 2005. Brian Hills, associate head hockey coach, asked around, including people in the College of Liberal Arts and its performing arts and visual culture program, for ways to make that happen.
"The pep band brings great atmosphere and student spirit," Hills said.
In 2006, Stephanie Dorn Rugg '08, '10 (chemistry), who played clarinet in the concert band, decided to see who else might be interested. "I just stood up after practice in the concert band and asked if anyone would want to be in a pep band," she said.
Fifteen or 16 people joined, including Amanda Preske '09 (chemistry), who also played clarinet.
"We wanted to play anywhere," said Preske, of Rochester, who owns Circuit Breaker Labs, which produces jewelry and home decor made from circuit boards and electronics. "We knew hockey was big, so we approached the team to see if it was something feasible. They even gave us some jerseys so we could sit with the Corner Crew. By the second or third year, we started playing at basketball games."
That first year, RIT's Athletic Association and Student Affairs helped pay for instruments for a dozen or so pep band members, and brown and orange tie-dyed shirts were sold as fundraisers so they could buy more.
The pep band became an official club the following year. Its members traveled to important hockey games, from Albany to Indiana, sometimes driving on their own, sometimes hitching a ride on buses designated for students attending the games.
"It was a lot of fun. It was a great time," said Rugg, now an assistant professor of chemistry at Alfred State College who lives in Conesus, N.Y. "It was a great challenge, trying to start something new, trying to get music, trying to get enough people and trying to get a room. But there were great resources. My mother sewed sousaphone covers with the RIT logo."
Mark Negro '12 (mechanical engineering) saw a flier posted on the wall that encouraged him to join. He played percussion in the pep band for six years and traveled to different venues, including the Frozen Four in Michigan in 2010, to cheer on the RIT men's hockey team. And he still plays drums with local bands.
"Being in the band helped me relax," said Negro, now a senior mechanical engineer for the Lord Corp. in Erie, Pa. "It was a nice release from engineering and all the numbers."
Greg Moss, recently retired senior director for the Center for Recreational Sports, said the pep band had some growing pains in the beginning. In the Frank Ritter Ice Arena, for example, microphones were needed, as were radios to coordinate playing in between the announcements and the Corner Crew cheers, and transportation to events needed to be worked out.
On one trip, the band drove through blizzard conditions to a hockey game, only to be told they couldn't play because the home team didn't have a pep band, Moss said. An agreement was made that they could play, but only between periods.
The commitment from the students impressed Moss. Often, they'd give up their weekends to travel to a game, sometimes paying for their tickets and transportation.
Today, the pep band rehearses each Wednesday evening in the Gene Polisseni Center and performs about 50 or 60 times a year. They play at men's and women's hockey games, men's lacrosse games, the Imagine RIT: Innovation and Creativity Festival, Tiger Walk and other community events.
The band has an array of instruments for students to use and gives them discounts to buy hockey jerseys worn as a uniform. The number in the band fluctuates depending on the time games are played, Zgoda said. There may only be 20 members of the pep band when women's hockey games are played at 2 p.m. Fridays, for example. "Most of us are still in classes. But the average is about 65 people for a men's hockey game," he said.
"We talk to a lot of the athletes and they say they love us and we help pump them up," Zgoda said. "They say they hear us play before the puck drops and the team is ready to go after that."
The pep band is known for playing "Hey Song," "Eye of the Tiger" and "Born to be Wild." "We call them our classics, songs the band played when they started that we still play now," Zgoda said.
And it's likely that 140 number —which swelled with visiting alumni—will grow.
Rugg said she's proud of the pep band and isn't surprised by its growth.
"It was the best time I had in college," Rugg said. "We all had fantastic chemistry, people from all different majors and all different disciplines. It was the pep band that helped me thrive to become a leader and become more well-rounded. And it's neat to know I had a little bit to do with so many people's pleasures now."