Photographs and Histories of Area 19th Century Churches Grace Pages of New Book
God's Country is written by Phyllis Pittman Kitt and published by the RIT Press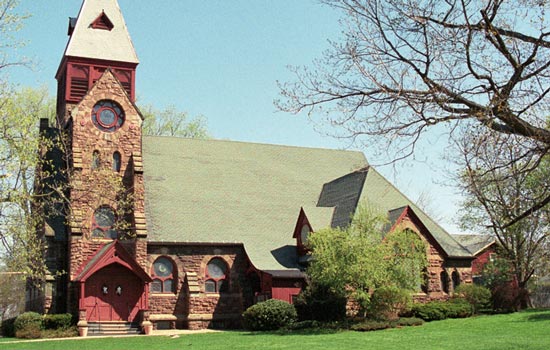 Phyllis Pittman Kitt
Phyllis Pittman Kitt shares two of her passions—photography and research—in her new book God's Country, Historic Churches and Chapels of the Genesee Valley, featuring photographs and architectural and historical background about more than 100 churches throughout the surrounding nine-county area.
Published by the RIT Press, the book contains full-color photographs shot by Kitt and brief histories of 19th century Christian churches. Some of the churches include: the Neo-Gothic St. Michael's Catholic Church in Rochester, the Cobblestone Church in Childs, N.Y. (the oldest cobblestone church in North America), the Greek Revival Brooks Grove Methodist Church at the Genesee Country Village and Museum and the Romanesque-influenced First Universalist Church in Rochester.
The 9-inch-by-12-inch softcover book is 238 pages and is priced at $39.95. God's Country can be purchased at Barnes & Noble or through the RIT Cary Press by calling (585) 475-6766 or online at carypress.rit.edu.
Kitt will host a series of upcoming booksignings:
Barnes & Noble, 3349 Monroe Ave., 7 p.m. Tuesday, Sept. 8
Pittsford Community Library, 24 State St., 7 p.m. Tuesday, Oct. 13
George Eastman House, 900 East Ave., 4 p.m. Sunday, Nov. 1
A few wrong turns on some back country roads and the discovery of a dilapidated church ultimately led her on this journey to producing God's Country.
"About 15 years ago, I got lost on a deserted country road trying to find my way home from a distant town," says Kitt, a Pittsford resident. "I pulled the car over to look at a map and through the underbrush along the road noticed what looked like a steeple. I got out to investigate and realized that it was the remains of an old church. The spire was torn off, there were large holes in the roof, the windows were broken and a tree limb was growing out of one of them. But I could still see fragments of fine carvings over the front door and under the eaves. I thought it a great pity since it once must have been a gem."
Kitt worked closely with county historians, conducting extensive research for the book.
She adds: "The research was fascinating to me. It connected me to a period in history that we may feel is no longer relevant. I hope readers find the same sense of connection and relevance that I did."
"The RIT Press is aware that RIT is part of a larger community and it occasionally publishes books by authors who document various aspects of the Rochester regional community," says David Pankow, director of the RIT Press. "Phyllis' book appealed to us because of the quality of her photography, the extent of her research and the opportunity it gave us to publish a book that we knew would not only be beautiful, but an important historical reference."
Frank Grosso, consulting architect on the book, wrote a commentary on architecture and, after visiting each church, provided Kitt with architectural language to complete the histories.
Grosso writes in God's Country: "In tracing the early development of ecclesiastical architecture in the Genesee Valley, this books takes us from the beginning years of the 19th century into those of the 20th. The earliest settlers, after providing home and hearth for their families, turned their attention to building structures to provide for their religious, social, and cultural needs. Often called "meetinghouses," these structures were usually simple, one-room affairs. It was not long, though, before the settlers began to raise far more ambitious church buildings."
Stuart Bolger, director emeritus of the Genesee Country Village and Museum, wrote the book's foreword.
RIT Cary Graphic Arts Press and its new imprint, RIT Press, are scholarly publishing enterprises at Rochester Institute of Technology. The Press is associated with the Melbert B. Cary Jr. Graphic Arts Collection, one of the country's premier libraries on the history and practice of printing.
##
Photo Credit: Phyllis Pittman Kitt
Photo Captions: The Cobblestone Church, Childs, N.Y.
All Souls Chapel at Holy Sepulcher Cemetery, Rochester, N.Y.
St. John's Episcopal Church, Clifton Springs, N.Y.
Topics