Pittsford Resident Honored for Teaching Excellence at RIT
Hossein Shahmohamad also completes MBA degree from university this May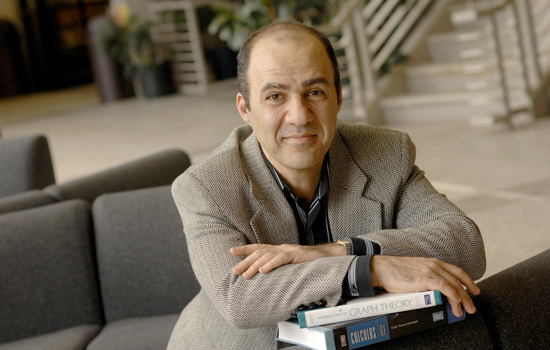 A. Sue Weisler
Hossein Shahmohamad is recipient of the 2008-2009 Richard and Virginia Eisenhart Award for Excellence in Teaching at Rochester Institute of Technology.
The associate professor and director of graduate programs at RIT's School of Mathematical Sciences in the College of Science says he is honored to receive the prestigious award. "Teaching is truly an art and if your passion isn't in it, it will show. When students know that you care about their progress—sometimes more than they do themselves—it results in their going the extra mile.
"Any math class can only make your 'CPU,' the central process unit of your mind, function better. I tell my students, 'You are not the person who walked through the classroom door 10 weeks ago. You are a faster thinker because your 'CPU' is not a Pentium 2 but a Pentium 3."
Shahmohamad could be considered an "advanced Pentium" processor because he just earned another degree and will be graduating this May with an MBA in management and leadership from RIT's E. Philip Saunders College of Business. He earned his undergraduate and master's degree in mathematics at California State University at Long Beach, and doctorate in mathematics at the University of Pittsburgh.
Born in Iran, Shahmohamad now lives in Pittsford with his wife, Sahar, and their "almost" two-year-old son, Shayan.
"I find Rochester—this city by the bay, this city by the river, this city by the canal—a great place to live and raise a family. We spend half of our day at work—and my department, my college, RIT students, the whole institute is such a pleasant, pleasant experience. I come to work with a smile on my face and leave with a smile on my face."
##
Editor's Note: Since 1965, RIT's Eisenhart Awards for Outstanding Teaching have honored and celebrated faculty excellence. Winners are chosen through rigorous peer review of student nominations. The Eisenhart family, for whom the awards are named, has a long history with RIT. The late M. Herbert Eisenhart, president and board chairman of Bausch and Lomb, was an RIT trustee for more than 50 years. Richard Eisenhart continues the RIT connection, serving on the board since 1972, as chairman for six years and now as trustee emeritus.