Potter receives prestigious grant
Believed to be the first from RIT to earn honor, potter one of only 30 artists selected nationwide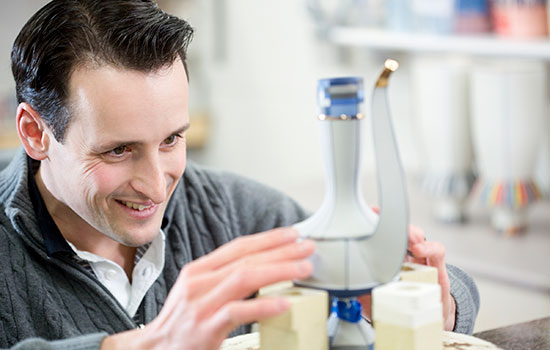 Peter Pincus, a visiting assistant professor at Rochester Institute of Technology's School for American Crafts, has received a 2017 Biennial Grant from the Louis Comfort Tiffany Foundation, a prestigious honor given to a small number of artists across the country to help them produce new work and push the boundaries of their creativity.
Pincus, a potter, is believed to be the first RIT faculty member to receive a Tiffany Award since its establishment in 1980. He is one of only 30 artists nationwide to receive an unrestricted grant of $20,000, which was awarded in the fields of painting, sculpture, printmaking, photography, video and craft media.
"Pottery is not generally recognized in the Tiffany Award, and I am proud and honored that they included me in a diverse group of painters, sculptors and performance artists," Pincus said. "It has always been a goal of mine to promote pottery as a form of fine art expression, and my inclusion in this award is a great step in that direction."
"One of my goals is to make more people enthusiastic and excited about handmade objects used in a home," added Pincus, whose @peterpincusporcelain Instagram account has gained more than 48,000 followers. "There is such history, subtlety and sophistication in the field of utilitarian ceramics. My job is to help promote interest and expand its reach within new communities that have yet to be fully exposed to it."
Every two years, designated nominators from throughout the United States recommend candidates to be considered for a foundation grant to support artists whose work shows promise, but who have not received widespread critical acclaim or commercial recognition.
Nominees for the Tiffany Award are reviewed and selected for their talent and individual artistic strength by an invited jury comprising artists, critics, museum professionals and representation from the foundation's board of trustees. The competition currently is administered by the American Federation of Arts.
The award comes at an especially opportune time for Pincus and his wife, Laurie, who collaboratively create ceramic pieces at their Penfield, N.Y., studio. In addition to recently completing an addition to their studio, the couple is finishing putting creative touches on a 3D-printed wall piece that features 1,200 colored porcelain quatrefoil tiles. The vibrant, multicolored work spans 88-by-55 inches and represents the couple's initial foray into tile. It is currently being framed and shipped to Louis Wexler for display in his gallery, marking the official beginning of a new body of two-dimensional work for the couple.
Pincus has exhibited widely, including Ferrin Contemporary in Cummington, Mass.; Lewis Wexler Gallery in Philadelphia; Sherry Leedy Contemporary in Kansas City, Mo.; Chamber-NYC; and Galleria-Impacto in Peru. His work also can be seen in private and public collections such as the Museum of Fine Arts in Houston and the Daum Museum of Contemporary Art in Missouri.
Next month, the Tiffany Foundation, marking its centennial year, will publish a full-color catalogue documenting the work of grant recipients, including images and biographies.
Pincus said it will be "amazing" to be included among such inspiring artists.
"Every day we feel an increased sense of purpose when we enter the studio," he said. "Recognition from the Tiffany Award has provided a tremendous sense of motivation and validation."