President's successful past hints at RIT's future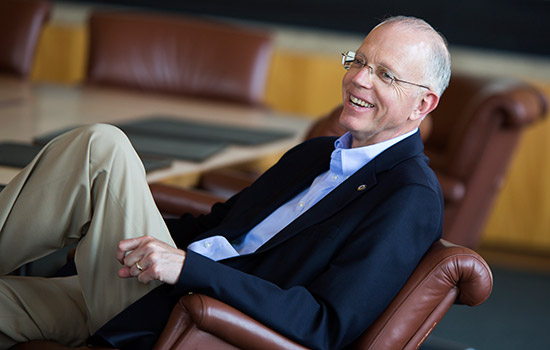 Joseph Xu
In the 1990s as a professor of electrical and computer engineering at the University of Illinois, David C. Munson Jr. had an unconventional idea: He wanted to create a university of engineering and the arts.
"There were some liberal arts schools in New England going out of business at the time, and I thought, 'Man, if I could just talk a philanthropist into supporting such a venture, I could have the time of my life,'" Munson said.
The problem was that Munson didn't encounter such an individual. But RIT's 10th president didn't give up on an approach to education that transforms students into well-rounded citizens prepared to change the world.
Years later as dean of the College of Engineering at the University of Michigan, Munson envisioned graduating citizen engineers through a comprehensive program that encouraged entrepreneurship, hands-on multidisciplinary design projects, opportunities for international education and increased experiences in the arts.
When he completed the maximum-allowed two terms as dean in 2016, this vision had been realized in a deeper way than anyone thought was possible, said James Holloway, who was an associate dean for undergraduate education for the College of Engineering under Munson.
"There were shifts in the culture," Holloway said. "He was able to achieve this because he has a good understanding of how to be a leader. He knows how to empower people, how to inspire people, to influence other people to act and to act himself when it was appropriate."
Now as the new president of RIT, Munson will build on his vision of producing graduates who lead lives of consequence and purpose. In the process, he hopes to give RIT a crisper story to tell about what it is, how it is different from other schools and how the university is the best at blending technology with the arts and design.
"RIT is big enough to have a huge impact and small enough that it may be possible to get a lot of folks on the same page to really dream even further about how to strengthen some of our programs, and at some point, be recognized as the pre-eminent university working in that intersection," said Munson, who started as president on July 1. "I see at RIT even more opportunity to do the kind of thing I enjoy doing."
Changing a culture
Munson had only been at the University of Michigan for a few years as chair of the electrical engineering and computer science department when the Robert J. Vlasic Dean of Engineering position became open.
Before he interviewed for the job, Munson thought about what the college needed the most to improve. He recognized that engineering students would benefit from a broader awareness and skill set to be competitive in the changing global economy and proposed ideas on how to create this new kind of engineer.
The ideas came from his own background.
As an undergraduate in electrical engineering at the University of Delaware, Munson spent a third of his senior year working on a design project with his best friend. The experience was powerful, and Munson concluded that through that activity he had learned almost as much as he had in all of his courses combined. Increasing the number of hands-on multidisciplinary design activities became one of his initiatives.
As a junior faculty member at the University of Illinois, Munson had the opportunity to travel to international technical conferences all over the world. He always took extra time to learn about the culture and visit historical sites and museums.
"Every trip was just fabulous," he said. "It really enlarges your view of the world, and I really thought our students should be having those kinds of experiences as part of their education."
That's why expanding international opportunities became an objective.
Finally, Munson was a co-founder of InstaRecon Inc., a startup company to commercialize fast algorithms for image formation in computer tomography.
He thought if he and faculty colleagues could create companies without a business degree, many engineering students could launch their own companies as well, so he made entrepreneurship one of his goals.
After Munson started as dean in 2006, he set up task forces in each of these areas, found talented people to serve on them and set them loose.
For multidisciplinary design, they created a co-curricular minor that was not part of any one department. The minor, which was made available to students outside of engineering as well, requires an intensive hands-on, multi-term design project.
In addition, Munson greatly expanded the number of multidisciplinary design projects students in engineering as well as those in other colleges could work on together.
"What happened with that is over time, through the work of Dave and others, that became more and more part of the culture," said Holloway, now vice provost for Global Engagement and Interdisciplinary Academic Affairs at Michigan. "Various departments started to bring in those ideas, creating opportunities for hands-on experiences. They started to bring them into the regular curriculum, so they became part of the fabric."
The same thing happened with entrepreneurship.
Aileen Huang-Saad, an assistant professor of biomedical engineering, entrepreneurship and engineering education, was part of the team of faculty, staff and students who created the Center for Entrepreneurship in the College of Engineering at Michigan in 2007.
Huang-Saad said after the center opened, they realized that students outside of engineering also wanted the opportunity to gain entrepreneurial skills. Before they knew it, half of the 2,500 students who used the center each year were from other schools and colleges across the university.
"(Munson) was perfectly fine with that," she said. "He was committed to providing the best possible experience for the students and strongly supported interdisciplinary collaboration."
Students across the Ann Arbor campus began sharing their entrepreneurial ideas and participating in activities inside and outside of the classroom, which fostered a more innovative campus, Huang-Saad said. That transformed the overall culture.
Holloway said with all of the initiatives, Munson encouraged a big tent approach—broad programs that would benefit many students.
"At a university, that is what is key—it is not just about creating a program or two and putting it on a web page," Holloway said. "It's really about using those ideas to change the culture of the place and get everyone to start to engage in those activities. Pretty soon, 10 years later, it seems as if it has always been this way."
International programs
Munson's push for international programs succeeded because he was receptive to out- of-the-box concepts, Holloway said.
"We could go to Dave with crazy ideas like we are going to encourage students to go abroad and treat it all as transfer credits so we won't collect tuition," Holloway said. "He would ask, 'Will we get more students to go? All right, let's do it.'"
Over time, more students got involved and excited about international opportunities. They enrolled in a new international minor for engineers and participated in non-credit activities abroad.
They began to communicate that excitement to their departments, and faculty began to see the benefits. By the end of Munson's deanship, the number of engineering students traveling abroad more than doubled to almost 30 percent of the graduating class, and Michigan Engineering had one of the top international engineering programs in the country.
Carrie Tamarelli, a 2013 University of Michigan graduate in materials science and engineering, experienced that firsthand. As an undergraduate, she was part of a student organization called M-HEAL that did global health engineering work. In 2010, the group was planning its first independent trip abroad to Nicaragua, but members needed financial help to make it work.
She and others in the group made an appointment with Munson, who always made himself available to students. He encouraged them to think about their goals and to return to him with more specifics about the project. They did and were rewarded with support.
The trip, where the students spent two weeks traveling to remote rural villages, changed the trajectory of Tamarelli's college experience. M-HEAL became the single largest thing she dedicated her time to as an undergraduate. It also got her thinking about how engineering affects actual clinical work.
She is now in medical school at the University of Michigan.
"That trip was a big deal," she said. "It was the first time I had traveled without my family. It was a big learning experience."
ArtsEngine
The College of Engineering at the University of Michigan is located on the North Campus with the School of Music, Theatre & Dance, the Stamps School of Art & Design and the Taubman College of Architecture and Urban Planning.
When Munson became dean, he began working closely with the arts deans, who had started an organization called Arts on Earth, which was designed to create interdisciplinary connections.
Christopher Kendall, former dean of the School of Music, Theatre & Dance, said they thought of Munson as an honorary arts dean because of his personal appreciation of the arts. Munson is from a musical family and is a singer with experience in musical theater.
Munson said he welcomed the opportunity to work collaboratively with his colleagues.
The organization, which changed its name to ArtsEngine, developed joint coursework, workshops and conferences for faculty and students. ArtsEngine also created a living-learning community called Living Arts for students who wanted to explore innovation and creativity across multiple areas.
"Often the arts, or any discipline, is ghettoized in its own community and culture," said Laurie Baefsky, executive director of ArtsEngine. "What was so unique was really looking at arts, design and engineering comprehensively within a cross-cutting holistic education, while retaining rigor with each of these units."
ArtsEngine was going so well that in 2011 they invited 150 thought leaders across higher education to a symposium on the integration of arts in higher education, Baefsky said. The symposium resulted in an Andrew W. Mellon Foundation grant to research the role of arts in higher education.
And that grant initiative helped launch a national organization in 2012 called the Alliance for Arts in Research Universities, a2ru, which currently has 39 members. RIT has recently joined.
The organization works to change the dialogue nationally around the importance of the arts in conjunction with other disciplines, said Deb Mexicotte, associate director of a2ru/ArtsEngine.
Kendall said ArtsEngine would not have taken the form that it did without Munson and his understanding of the value of the arts.
"Dave also brought another quality to the whole activity," Kendall said. "Dave has this wonderful sense of fun. The character of our activities was so informed by his sense of fun."
Future of RIT
Slowly and quietly during Munson's tenure as dean, Michigan Engineering grew. Annual research expenditures increased from $130 million to $250 million. The faculty population grew by 30 percent with aggressive hiring and retention programs. Enrollment reached 10,000 students.
Khalil Najafi, chair of Electrical and Computer Engineering at the University of Michigan, said the growth had a huge impact. New programs, campuswide partnerships and faculty members rejuvenated the college and improved the overall education.
"Students today graduate with a much broader perspective," Najafi said. "They have been through a broader set of experiences and as a result they are a lot better prepared when they go to the real world."
Munson's experience at Michigan, noted the 24-member RIT presidential search committee and the Board of Trustees, make Munson the right leader at the right time for RIT.
Munson said his goal is not to turn RIT into the University of Michigan.
Although it is too early to announce specific goals, Munson said, he wants the RIT community to think broadly. "I don't believe our purpose ought to be just to train someone to have a career. I believe we need to be more explicitly thinking about the bigger world and the bigger picture and having a positive impact in the world."
He wants to build RIT's research and graduate programs, a directive put in place by the RIT Board of Trustees. Research, he said, includes scholarship and artistic expression.
"The bottom line is we need, to the extent possible, for every faculty member to be doing great work that is recognized outside the university. That helps a lot in building the profile of the university and attracting the best students and creating an environment to conduct the best work."
In terms of new initiatives, his thinking doesn't start with what RIT needs; it starts with what programs would attract a prospective student to RIT.
And Munson said he wants to focus even more on the intersection of arts and technology. "I can think of countless ways in which the liberal arts are and can be connected to that central focus," he said. "Same thing in business and the health sciences. I think other parts of the university can leverage the focus on arts and technology to do something unique in their own domains."
In the short term, though, he looks forward to getting to know RIT students, faculty and staff and the Rochester community.
"It's an absolute dream come true in terms of what already exists at RIT and what I think we can do in the future," Munson said. "I can hardly wait to get started."
Tiger Tour
Notable RIT alumni will be hosting David Munson at events around the country. Details at rit.edu/tigertour.
Twitter
Follow @RITpresident on Twitter.
Inauguration
David Munson will be installed as RIT's 10th president at an inauguration ceremony in the Gordon Field House and Activities Center on Sept. 28. The keynote speaker will be Dartmouth College President Philip Hanlon. For details, go to rit.edu/president.
Related Stories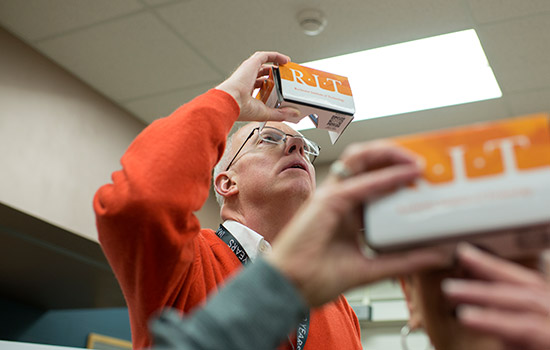 Brittainy Newman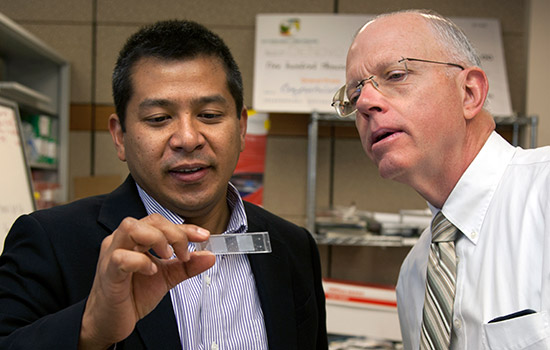 Joseph Xu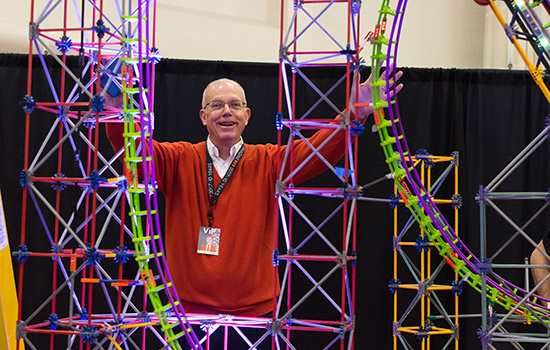 Catherine Rafferty