Princeton Review ranks RIT's online MBA in top 10
RIT's graduate business school demonstrates another strong showing in new 2018 classification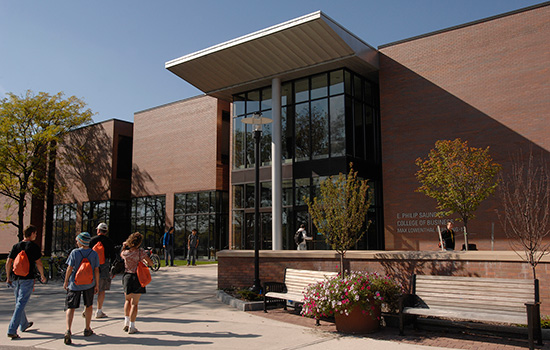 A. Sue Weisler
Saunders College of Business at Rochester Institute of Technology ranked eighth in the "Top 25 Online MBA Programs for 2018."
Saunders College online Executive MBA program also earned high placements the past three years since the inception of The Princeton Review's comprehensive rankings of online MBA programs in 2015.
"The online Executive MBA is a signature program of Saunders College and we are pleased that its reputation continues to garner exceptional rankings," said Saunders College Dean Jacqueline Mozrall. "Guided by an innovative and dedicated program staff, our outstanding faculty provide a rich and engaging learning environment for our cohort-based online Executive MBA experience."
The result of The Princeton Review's third annual ranking of the top 25 online MBA programs for 2018 is available at www.princetonreview.com/best-business-schools along with FAQs about the basis for each ranking, including detailed profiles of the schools.
"As more students embrace online MBA options, the caliber of both students and programs has greatly improved, so it is especially gratifying to see recognition at the national level of our students' commitment to their own professional development, as well as evidence of our faculty's high-touch engagement with their students," said Martin Lawlor, director of the Executive MBA program at Saunders College.
According to one Saunders online Executive MBA student, "This is an intense program that prepares students with unimaginable leadership capabilities," while another mentioned, "innovation, product management, marketing and analytical" skills as part of the program's strengths.
Saunders' online Executive MBA program was cited by students for its "well-known, rigorous and accelerated program" that delivers 47 credit hours in 17 months of study, an international immersion trip that is "a huge benefit to attending RIT," and "real-life courses and assignments" culminating in a capstone project where students serve as consultants to actual businesses. "A whopping 50 percent" of graduates reported receiving a promotion while attending the program.
Saunders College is accredited by the AACSB (Association to Advance Collegiate Schools of Business) and offers the Executive MBA program with flexible scheduling options and access to a dedicated MBA career services advisor, as well as free lifetime access to RIT's Career Services.
Robert Franek, senior vice president and publisher of The Princeton Review, said "Top business schools now offer online MBAs and employers do see them as credible and valuable. For working professionals unable to move to a 'brick and mortar' campus for an MBA, these schools offer an opportunity to learn from some of the world's best b-school professors and earn the degree from anywhere in the world."