Professor receives Excellence in Leadership Award
Society recognizes microsystems professor Bruce Smith for leadership in engineering innovations and for enhancing student careers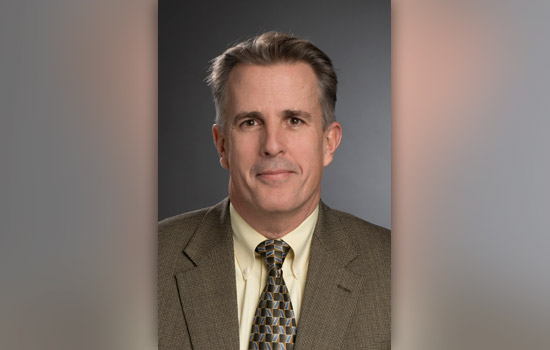 Bruce Smith, professor and director of microsystems engineering at Rochester Institute of Technology, was recently honored with the Excellence in Leadership Award from the American Vacuum Society for his contributions to the field of nanolithography and influence on the careers of student-graduates in the fields of engineering and science.
The award is given annually to individuals who have made an impact in science and engineering, but also through mentoring, enhancing the careers of future generations who might not otherwise have considered or had access to opportunities in these fields. Smith, an active member of the society for 18 years, received the prestigious award at the recent AVS International Symposium and Exhibition that took place Oct. 29-Nov. 3 in Tampa, Fla.
"I am delighted to see Bruce receive this national recognition. Not only has he been at the forefront of research and innovation, he has shared his passion and expertise with his students freely," said Doreen Edwards, dean of RIT's Kate Gleason College of Engineering. "His leadership of the Ph.D. program in microsystems has garnered the respect of his peers as well. We are proud to call him our own."
An alumnus of RIT's Center for Imaging Science, Smith has been a member of the Kate Gleason College of Engineering faculty since 1988. With accomplishments in both technology innovation and engineering education, Smith has been instrumental in the advancement of semiconductor device and materials technology, pioneering advances in nanolithography, patterning materials, thin films and process innovation. Smith has played an important role in developing semiconductor devices at the nanometer scale. His interdisciplinary approach to research and education has led to unique opportunities for students, impacting the semiconductor community for nearly three decades. For this, Smith was inducted into RIT's Innovation Hall of Fame in 2013. He has more than 200 publications, 30 patents and numerous textbook chapters on innovations in semiconductor patterning technology. Smith has also held various visiting professor positions in the U.S., United Kingdom and Europe, and holds the designation of Fellow of several prominent professional organizations including the Institute of Electrical and Electronics Engineers, (IEEE, 2015), the Optical Society of America (OSA, 2013), and of the Society of Photo-Optical Instrumentation Engineers (SPIE, 2007).
The American Vacuum Society addresses cutting-edge issues associated with materials, processing, and interfaces in the research and manufacturing communities. The society was established in 1953 and is an interdisciplinary, professional society that supports networking among academic, industrial, government and consulting professionals involved in a variety of disciplines including chemistry, physics, biology, mathematics and engineering. AVS is organized into technical divisions and technical groups that encompass a range of established as well as emerging science and technology areas. AVS is a member society of the American Institute of Physics.