Professor's PTSD film receiving national attention
Poignant 'Purple Heart' getting high praise from veterans and national groups on social media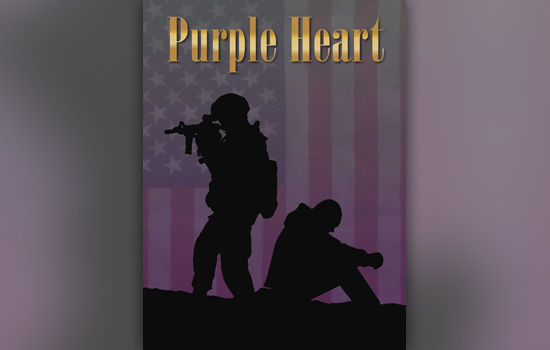 Supplied image
A powerful film by a Rochester Institute of Technology professor that depicts the painful costs of post-traumatic stress disorder (PTSD) is receiving high praise from veterans and national groups over social media.
Purple Heart, a nearly 16-minute film directed by Peter Kiwitt, an assistant professor in the School of Film and Animation in RIT's College of Imaging Arts and Sciences, tells the poignant story of a young Iraq war veteran caught in the downward spiral of PTSD.
"His girlfriend, a deaf artist, tries to help but he pushes her away," said Kiwitt, who shot the film using actors and crew members from RIT. "As his life unravels, he begins to lose control, veering towards tragedy."
The film's tagline is "Seeking help is not a sign of weakness. It's a sign of courage and love."
In a letter to Kiwitt by Jessica Hamblen, acting deputy executive director/deputy for education at the National Center for PTSD, she wrote that she was "impressed with both the story script and the approach" of the RIT's professor's film.
"Often when things are sent to us they are either overly dramatic or get some facts off," Hamblen wrote. "What you sent was well done and compelling. The message was right on target."
After the organization posted a link to the film on its Facebook page—which has more than 100,000 "likes"—it received collective praise from scores of veterans and PTSD sufferers.
"This video is very powerful and stresses one of the hardest obstacles veterans have to overcome in order to get help from PTSD," posted Jeremy. "Watch it. Share it. Watch it with your veteran. Tell them it's OK to ask for help."
"Such a beautiful short about the destructiveness of PTSD," Deb M. posted.
Kiwitt said he got the idea for the film after seeing a report on PTSD and wanting to do something to help. The film was shot in 2013 and completed last year.
In addition to the praise it has received over social media, the film is now making the rounds at several film festivals, including last month's Buffalo International Film Festival.
Purple Heart is also making its first foreign festival debut in Australia as part of the Veterans Film Festival.
Kiwitt's professional experience included years in Hollywood as a director, writer, producer, editor and executive working on movies and TV series for large and independent studios. He is a member of the Directors Guild of America, and—now that he has transitioned to academia at RIT—he has been developing original theories about film.
For more information about Purple Heart, go to the film's Vimeo page at https://vimeo.com/channels/purpleheart.