Proud and thankful for time at RIT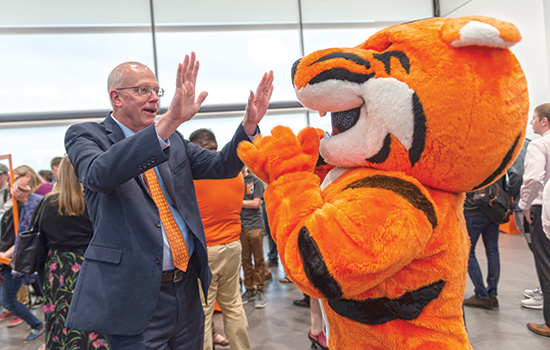 Will Strawster (2010)/Myers creative Imaging
As many of you know, I will step down as your president this summer after 10 years in this role. Rebecca and I can only offer our heartfelt thanks for the support and encouragement that all of you have offered.
We are, of course, proud of what has been accomplished during this decade, but mostly we are proud of you—our students, faculty, staff and alumni. The efforts of all of you to improve the experience that RIT students receive during their tenure here simply amaze us. The work that so many of you have done to turn a half-baked idea like Imagine RIT: Innovation and Creativity Festival into a veritable showcase of what this remarkable university is all about is something we will never forget. And the commitment of all of you to ensuring that RIT remains an inclusive and welcoming community for all makes us so proud to have our names associated with this wonderful place.
I have been particularly pleased that the search process for identifying RIT's next president has been guided by RIT's core shared values. Our love of geeks, artists and humanists, and our belief in the possibilities that can grow out of a greater connection between them, is one such value. Our commitment to the deaf and hard-of-hearing community and our appreciation for the unique diversity they bring to our campus is another. Our efforts to build an elite university without becoming elitist and our associated commitment to maintaining access to RIT for those from economically and socially challenged backgrounds are particularly noteworthy. And finally, our commitment to provide a rigorous, intellectually challenging education for our students that will ensure them a promising future is as strong as ever.
And I couldn't be more enthusiastic about the selection of Dr. David C. Munson Jr. as RIT's 10th president. I hope that all of you will strongly support him in his efforts to keep RIT on its remarkably positive trajectory. Over the past few weeks I have had the chance to interact with Dr. Munson on several occasions, and I have been deeply impressed with the range of his experience in higher education and his vision for what RIT can become.
Dr. Munson will assume the duties of president in July of this year. Until that time I would ask that you continue to work with Rebecca and me to advance RIT's strategic plan and our ongoing fundraising efforts. The field of higher education is an increasingly competitive one, and institutions that stand still for a period will almost certainly lose ground to their peer institutions. We do not intend to "coast" through our final months, and we hope that you will continue to work with us to keep RIT moving forward.
One final word: My tenure at RIT has been truly a partnership with Rebecca. Her contributions to our sustainability efforts and her many connections with students across the university, and especially with students of color, have helped to put a human face on this place and to reassure all within our community that their voices can be heard. She has been active in the greater Rochester community and has played a major role in the Rochester City Scholars Program.
But more importantly, at least to me, she has been my partner, my friend, my love, my counselor and my strongest supporter. I don't know how to adequately say thanks to her, but I hope this feeble attempt will do until I find a way to say it better. Thanks, Becca.
And Go Tigers!
Bill Destler, President
Topics