Putting science to exercise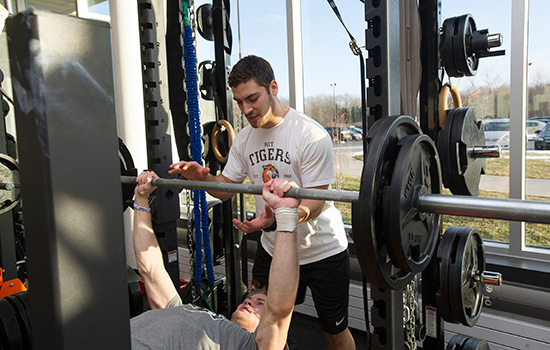 A. Sue Weisler
RIT's bachelor's degree in exercise science provides students with academic training and practical experiences, right on campus.
It is the first new program offered through the Wegmans School of Health and Nutrition in the College of Health Sciences and Technology and began this fall with four internal transfer students, including Kyle Moslow and Rachael Gardner. The first freshman class will begin in the next academic year.
Moslow and Gardner are gaining a comprehensive education in a field that applies health, fitness, physiology, biomechanics and psychology with different goals: enhancing athletic performance and managing disease through exercise. Moslow is developing the skills he needs to work with athletes. Gardner is pursuing the specialty known as clinical exercise physiology to help people in poor health. This branch of the field uses exercise as therapy for people with cardiac disease, type 2 diabetes, high cholesterol and other problems.
"The program prepares students for these two areas of exercise science where jobs are available and growth is happening," said Bill Brewer, director of the exercise science program.
The U.S. Bureau of Labor Statistics projects employment in health care occupations—including athletic trainers and exercise physiologists—to grow 19 percent by 2024. The anticipated 2.3 million new jobs reflects the demands of aging Baby Boomers and increased health care coverage in the general population.
Moslow, a resident of Buffalo, N.Y., switched majors and entered the program as a third-year student. He plans to combine a BS in exercise science with a professional degree from chiropractic school. "My life goal is to be a chiropractor for a National Hockey League team, specifically the Buffalo Sabres."
Moslow jumped at the opportunity to intern with the RIT men's hockey strength and conditioning program and assists RIT Coach Nate VanKouwenberg during training sessions for the 27 Division I hockey players.
"They are collegiate athletes who are familiar with the weight room, but one thing they may not be familiar with are the corrective exercises that Nate has introduced," Moslow said. "I make sure they are doing them the right way to get the most benefit from them. The idea is to train so you don't get hurt."
VanKouwenberg developed a program for Moslow to observe the athletes, demonstrate exercises and teach new techniques.
"Kyle's not just standing in my shadow; he's another coach in the room," VanKouwenberg said.
Gardner, a U.S. Army veteran from Fairport, N.Y., transferred into exercise science as a fourth-year student and will be the program's first graduate this spring. Her goal is to improve people's health as a certified exercise physiologist. She is interested in integrative medicine, which focuses on wellness, and using exercise to help people prevent—not just manage—chronic disease.
"For me, how I see it, clinical exercise physiology is more of the big picture," Gardner said. "It's understanding how exercise influences the body's physiology and using that knowledge to help people achieve their health and fitness goals, alongside their health care teams."
After graduating, Gardner will take the American College of Sports Medicine exam to become a certified clinical exercise physiologist. She currently volunteers as a health coach through a program run by Rochester General Hospital and available to select students through the RIT and Rochester Regional Health Alliance. Gardner's experiences in the training program on campus and as part of a health care team have reinforced her goal to work with patients.
Exercise science majors can gain practical experience through RIT's student wellness and Better Me employee wellness initiatives. Students who become certified personal trainers through the American College of Sports Medicine can take advantage of opportunities to use their skills on campus to help people improve their health and fitness.
"Many of our exercise science students will be able to graduate with two years' experience in strengthening and conditioning or as a personal trainer or an RIT Fitness Lab assistant," Brewer said. "Our students will also be able to work with the health fitness specialists who help RIT employees develop and maintain regular and consistent exercise programs that will enhance their lifestyle."
Wellness is an aspect of a company's culture and also a way to control medical expenditures, said Michael Stojkovic, associate director of wellness for the human resources department and adjunct teacher in the exercise science program.
"The programs we offer try to promote prevention of obesity, high blood pressure and diabetes, conditions that drive 75 to 80 percent of health care costs," Stojkovic said. "Companies are looking at the business imperative of offering programs like Better Me to help control these costs."
Co-ops with the Better Me program will give students experience working in worksite wellness with special populations like at-risk employees, he said.
"Students can supplement our health and fitness specialists and get experience working one-on-one with people, and doing group exercise instruction," Stojkovic said. "They can gain an understanding of what worksite wellness is and why companies are offering programs like Better Me."
About the degree
The exercise science major is a four-year BS degree offered through the Wegmans School of Health and Nutrition in the College of Health Sciences and Technology. The program requires completion of 120 credits, including 40 credit hours of core courses and nine professional electives. The core courses cover exercise physiology, fitness, biomechanics and kinesiology, or how the body moves, as well as personal training, worksite health promotion and sports psychology, among other topics.
Professional electives allow students to specialize in the program's athletic or clinical tracks. Completion of the exercise science degree prepares graduates to take the certified strength and conditioning specialist exam offered by the National Strength and Conditioning Association and/or the certified clinical exercise physiologist exam administered by the American College of Sports Medicine.
For more information, contact Bill Brewer, director of the exercise science program, at wsbsci@rit.edu.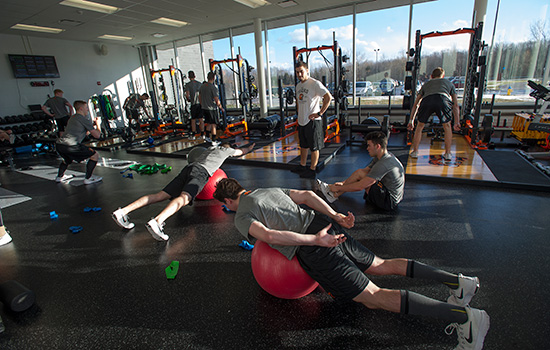 A. Sue Weisler