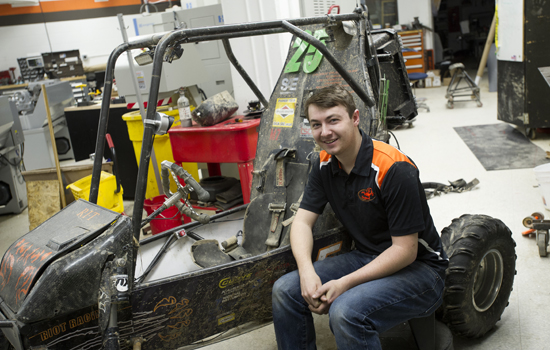 A. Sue Weisler
Doug Botto spent this year building a racecar and building a team.
As team manager for one of the most competitive and highly respected Baja race teams in the country, Botto juggles multiple roles—spokesperson, member recruitment, machine shop assignments, mentoring and managing team logistics for the nearly 60 people with roles in RIT Baja Racing.
"We're one of the biggest teams in the series, without a doubt," said the third-year mechanical engineering technology major from Smithtown, N.Y. "If you can manage all those people and have them working in some sort of productive means, you're going to have a better car in the end."
Baja team managers need to be as solid and reliable as the off-road car being built. Botto was nominated for the top role by his teammates because he earned the responsibility, said Mark Olles, assistant professor of mechanical engineering technology, and a team mentor who has seen Botto progress. "Doug is dedicated, and he's been this way since he started with the team his first year. He lives and breathes this."
As a freshman, Botto was "truck manager," in charge of tools, equipment and spare parts needed for races. Year Two, he was elected secretary and worked with design teams learning about frame, suspension, steering and brake systems.
"My first year, I spent so much time in the shop. I tell everybody, the more time you put into this, the more you'll get out of it."
He's still a fixture in the shop. His experience there and at past events could influence outcomes for 2016—such as consistently getting through the endurance race that closes all competitions.
Endurance is four pounding hours of hill, rock and log climbs, sharp turns through mud and thick grasses—and wishful thinking. The team with the least amount of time in the pits for repairs takes the checkered flag.
"We killed dynamic day last year in each of our three competitions," Botto said of one category of events that include a hill climb, suspension challenge and acceleration test. "The functionality of the car was fantastic. The problem we had was during endurance racing. Our two top competitors, Michigan and Cornell, we were neck-and-neck with them through static and dynamic days. We're the best teams in the series; but the difference is, they stay on the track."
Staying on the track is the team's goal, and after some re-engineered parts and fine-tuning, Botto considers the car strong enough to withstand the rigors of races in Tennessee in April, California in May before returning to RIT.
"This will be my first Rochester race, so this is a big deal for me," said Botto.
Also on the line is the Mike Schmidt Memorial Iron Team Trophy, given annually to the team with the best cumulative scores from all three North American competitions, and for perseverance, engineering excellence and competitive spirit. "I wake up every morning, and that's my motivation. This is our year to do it."
2016 SAE Baja Rochester competition
RIT will host the 2016 SAE Baja Rochester World Challenge June 9-12 at the university and at Hogback Hill Motocross site in Palmyra, N.Y.
It is the fifth time RIT will host the major racing competition with 100 collegiate teams from the U.S., Canada, India, Mexico, Brazil, Venezuela, the United Arab Emirates and South Korea expected.