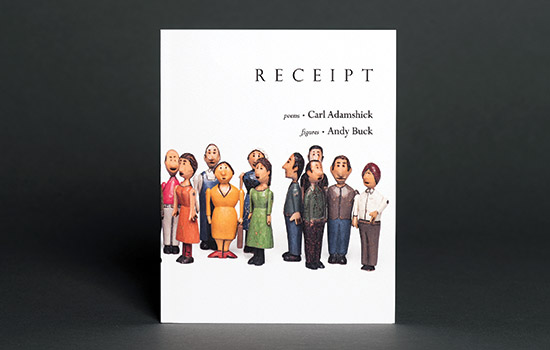 A creative collaboration between an RIT professor and an author has resulted in a thought-provoking book exploring people, their names and unique identities.
Receipt (Lost Horse Press, 2017) features the carvings of 23 wood figures by Andy Buck, a professor in RIT's School for American Crafts and program chair of furniture design in the College of Imaging Arts and Sciences. His creations are brought to life through the poetry of Carl Adamshick, an Oregon author and editor Buck met while living in Portland 20 years ago.
"The book's title is in reference to names," explained Buck, who likened the premise to that of the Spoon River Anthology—a collection of short, free verse poems by American poet Edgar Lee Masters. "Simply put, your name is your receipt."
The project began as one of sharing and discovery between the two friends. Buck worked on carving and painting his sculpted creations while Adamshick named each figure and "gave them a voice."
One of the connections shared by the artist and author was that both had recently lost a parent—Buck's father passed away around the same time Adamshick lost his mother. The RIT professor began working on the wood figures soon afterward.
After carving the figures, Buck presented them to Adamshick, who named each figure and created original poems for each. The figures populate the book's pages, prompting the reader to connect personalities with the imagery created by the poetry. Individual "bios" appear at the end of the book to provide more detail on each figure.
As the two friends developed an idea for the book's layout, Rachel Ferraro, an assistant professor in the School of Photographic Arts and Sciences, shot images of each piece along with Elizabeth Lamark in RIT Production Services.
During the final phase of the project, Buck matched excerpts from the original poems to create laser-engraved panels for 16 of his favorite figures. He also collaborated with RIT alumnus Jim Turner '79 (mechanical engineering technology) of Honeoye Falls Millwork, who created 3D scans of "Christopher," one of the figures, which was reproduced as a 6-foot replica.
Buck will exhibit his new pieces, the engraved panels and figures at Gallery NAGA in Boston late this year. Adamshick also will travel to the contemporary art gallery for a poetry reading.
The RIT professor hopes that the collaborative project will touch readers and viewers of the exhibition alike.
"We want associations to be taken in their totalit y by readers and viewers," he said. "There are tenuous connections that are open for interpretations, and we kept everything loose and undefined so people could participate more creatively."