Remembering the beginning of NTID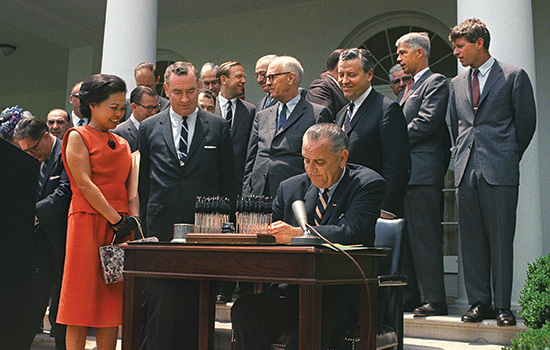 Provided by NTID
More than four decades ago, surrounded by colleagues and supporters, President Lyndon B. Johnson signed a law that would revolutionize technical education for the deaf community by creating the National Technical Institute for the Deaf.
The need for technical education for deaf students was discussed in 1964. After conferences and a Congressional Advisory Committee were held on the issue, bills were proposed to Congress for the creation of a single, national technical college for the deaf.
On June 8, 1965, President Johnson signed Public Law 89-36, establishing NTID into law at a special ceremony in the White House Rose Garden.
At least two dozen universities expressed interest in housing the new institute. That number was narrowed down to eight. RIT's strong post-secondary technical education and work-study programs gave it the edge and the official selection was announced on Nov. 14, 1966.
NTID began operations at RIT in 1968 with a class of 70 deaf or hard-of- hearing students. Within six years, 500 students were enrolled.
Today, more than 1,250 deaf or hard-of-hearing students are enrolled at RIT/NTID for both undergraduate and graduate programs.
The main academic building for NTID remains Lyndon Baines Johnson Hall, dedicated in honor of the work President Johnson did for NTID and the deaf community.