The rich history of individualized education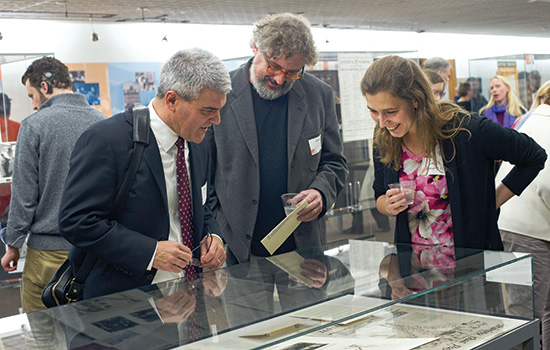 A. Sue Weisler
When Megan Walbaum, an academic adviser in the School of Individualized Study, contacted the RIT Archives in August 2015, she was hoping to acquire some historic photographs that could be reprinted to be hung in the office. Her inquiry sparked a collaborative exhibition on the program's history, which dates back to the 1800s.
The exhibit, titled "Charting One's Course: The History of Individualized Education at RIT," is on display in the RIT Museum through April 14. The exhibit, a joint effort among the School of Individualized Study, the museum studies program, RIT Alumni Relations and RIT Archives, employs curated artifacts, documents and photographs to tell a narrative of RIT's individualized education programs through time.
"In the process of supplying the photos, we started to realize that the school dated back to 1885," said Jody Sidlauskas, an associate archivist with RIT Archive Collections. "After seeing the amount of material that was linked to individualized education, but scattered throughout a variety of collections, we made a goal of creating a historical timeline of the school."
In November 2015, James Hall, executive director of the School of Individualized Study, reached out to Juilee Decker, an associate professor of museum studies, and asked if she'd be interested in having her class scour the archives for items that might be of interest. Decker jumped at the opportunity.
During last spring semester, Decker's class of 18 students developed the timeline for the onsite exhibition, showing where the archive collections were particularly rich and where there were gaps in items—and knowledge — about those years. Decker said the project was unique because the students were taking relevant materials from a series of different RIT collections and combining them.
"The students faced a challenge with this project because they had a lot of room to work independently to create meaning. It wasn't black and white, and a different student looking through the same set of objects might have found something totally different to be interesting," Decker said. "That was the beauty in it."
The School of Individualized Study, formerly called the Center for Multidisciplinary Studies, provides degree programs designed to help students be innovative and have a voice in their own degree curriculum, rather than limiting study to a single academic program.
Walbaum said that creating work like this was a great way to engage and connect current and former SOIS students to the university, and show the nontraditional school's tradition at RIT.
"Conceptually, when you're doing something individualized, you don't necessarily feel like you're a part of a cohort or a community," Walbaum said. "There's this question of where the feeling of connection to RIT comes from. Is it with immediate peers, a particular college they spent time in, or with no one? That's something that we looked into and tried to make sense of with this project."
With the help of Jodi Carville, a former director of Alumni Relations, a list was compiled of distinguished alumni who graduated from individualized study programs in the 60s, 70s, 80s and 90s. Interviews were conducted with these alumni to learn more about their experiences at RIT.
"We found that this program had a strong affinity in industry, and we knew that there were connections to particular companies in the area," said Sidlauskas. "Many students who graduated from the program went through an apprenticeship program, as well as evening school. One graduate from the '60s had more than six apprenticeships before graduating, getting experience with different things and combining different interests. It was a way in which students could chart their own course."
Decker said that Xerox Corp., Eastman Kodak Co. and Gleason Works were among the hundreds of companies that were very supportive of employees attending classes at RIT, many offering half-day work options. Decker said that looking through the logbooks, the exhibition team realized that there is a long, rich history of RIT partnerships with the community and business that date back to the 1890s.
"Forging connections is something that RIT has always prided itself in," said Decker. "Companies benefited from this program, and so did RIT."
Walbaum said that moving forward, SOIS is trying to be creative about the ways that students can balance traditional education with other opportunities, and continuing efforts to find ways to provide course credit through nontraditional means.
"Often times, students come to us as a reaction to something else not working out for them," Walbaum said. "We're encouraging students to make SOIS a deliberate choice from the beginning, to choose a mission, not necessarily a major, and we will help them to build a program around that pursuit."
If you go
What: An exhibition of photographs, memorabilia and remembrances of the history of individualized study at RIT.
When: Open now through April 14.
Where: RIT Museum, third floor of The Wallace Center.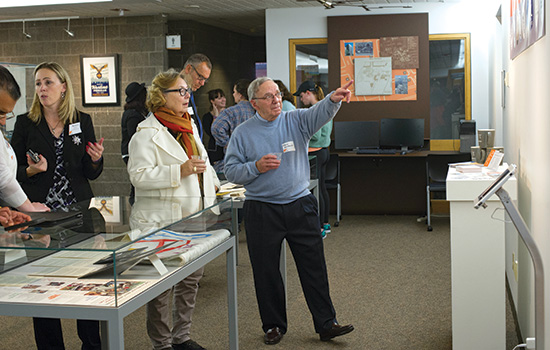 A. Sue Weisler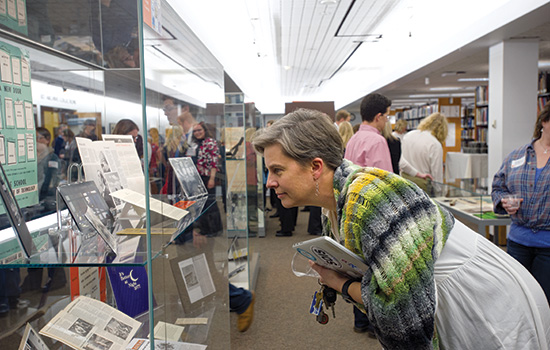 A. Sue Weisler