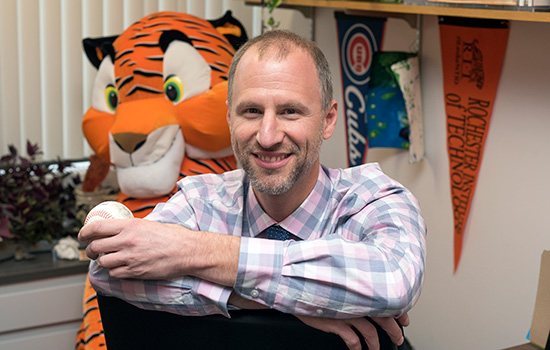 A. Sue Weisler
Not many can say that a business trip included dining with soap opera stars from Days of Our Lives. But Rick Postl can—all in the name of recruiting the best and brightest deaf and hard-of-hearing students for RIT/NTID.
For 10 years, Postl, senior associate director of NTID admissions, has collected fascinating stories, from the Days of Our Lives dinner that introduced the actors' deaf son to NTID, to biking through the Greek isles in 90-degree heat a day before attending an international conference, to maneuvering through unfamiliar territory late one evening to visit a prospective student.
"I have visited more than 500 schools so far in my career—both mainstream and schools for the deaf," he said. "I've made home visits to mansions and mobile homes. I'm a vegetarian, but I've eaten meat—and just smiled while doing it—so as not to offend a family during a recruitment visit. I'll do whatever it takes to make sure that students learn about the opportunities that RIT/NTID can provide for them."
Postl, a 1995 alumnus of RIT's social work program and a father of three, recalls experiences that astound young deaf and hard-of-hearing students.
"Simple things, like biking, crewing for a hot-air balloon pilot and traveling, are just part of my regular life. But talking about them can be an eye-opener for future students."
For example, in 1994, he biked across the country for 62 days with three fraternity brothers. Postl still bikes about 2,000 miles each year.
Postl says that during many visits, he is the only other deaf person the prospective students have ever encountered. He believes those interactions are crucial moments for him to demonstrate that deaf people can do anything in a world that struggles to appreciate deafness.
"I've been asked what it's like to work and be a deaf adult," he said. "Those visits are a chance for me to be a role model, not just 'sell' RIT/NTID. I take great pride in explaining that my doctor, dentist and accountant are all deaf. Some of these young students are mindful of their deafness. But when they come to RIT/NTID, they experience a great awakening. They have never imagined a place like this where deaf and hard-of-hearing people are normalized and deafness is accommodated so well."
Rick Postl
Job title: Senior associate director of NTID admissions
Years at RIT: 10
Best thing about working at RIT: Working alongside successful deaf and hard-of-hearing professionals, many of whom are alumni, and making a difference for subsequent generations.