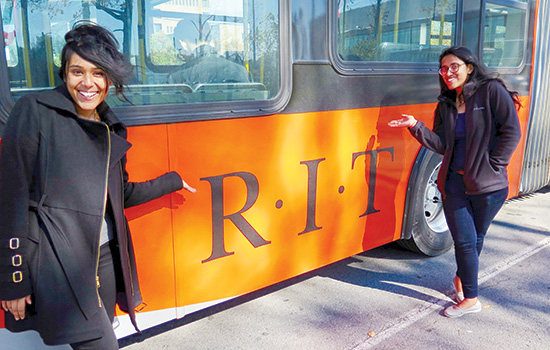 David Wivell
When potential employers ask to see their portfolios, these two RIT design students just have to point to the 11 orange buses driving around campus.
Rootwa Sagar and Trina Ray, visual communication design graduate students, created the winning design for the exterior surface of the buses. Their design was selected after Randy Vercauteren, director of transportation, collaborated with Professor Deborah Beardslee's Design Theory & Methods Seminar to come up with ideas for the buses.
"The most important quality that we wanted to convey in the design was safety," Sagar said. "We incorporated the tiger swooshes from the RIT Sports logo so it represents security, elegance and movement. The design is economical and easy to maintain for 10 to 20 years."
The slogan "Reducing Our Carbon Paw Print" on the back of the buses can be attributed to Jordan Reading and Rachel Smith, also students in Beardslee's graduate seminar course. The traditional RIT colors and logo were incorporated as part of the branding strategy.
"I have received a lot of comments from faculty, staff and students on how they like the design," said Vercauteren. "People outside of RIT have reached out to me through Facebook and posted pictures of the buses driving through Rochester."
The fleet of buses started rolling at the end of August. Vercauteren led the yearlong project with the goal to provide the community branded buses at an affordable cost to students.
"The branded buses are easier for students in Park Point and Province to identify," Vercauteren said. "Before the only way to know if it was the in-house bus was the scrolling screen on the outside of the buses."
The buses are run by RIT's new service provider, First Transit.
Students can use First Transit's Transloc Rider smartphone app to track the location of the buses in motion, the time each one will arrive at a designated stop and percentage of rider capacity.
First Transit also provides weekend chartering service to clubs and organizations affiliated with RIT.
Student Wellness has begun chartering one of the buses to the Public Market on Saturday mornings. The new buses are significantly larger and easier to load groceries on than the school buses the group had been using.
"The chartering service could be really popular in the summer," Vercauteren said. "We are considering working with Student Government to offer trips to shopping outlets during the week."
In addition to off-campus chartering, Transportation Services plans to use the buses for open houses and commencement.