RIT Ambulance celebrates 50 years of service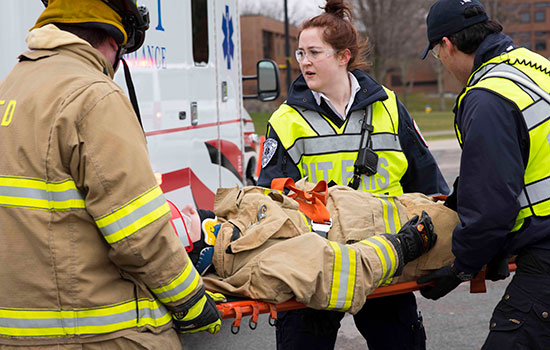 A. Sue Weisler
RIT Ambulance has come a long way since 1968.
It started when a small group of students convinced administrators that the university needed its own ambulance service. Today, it is a recognized member of the area's emergency medical services community. As it marks its 50th anniversary, it is celebrating some major accomplishments:
RIT Ambulance was designated an "EMS Ready Campus" for excellence in emergency management and disaster preparedness by the National Collegiate EMS Foundation.
Oren Cohn, an undergraduate student and chief of operations, was honored as the 2018 EMS Provider of the Year by the foundation—an award given to only one collegiate emergency medical service provider from across the country.
The Sudden Cardiac Arrest Association praised the team for its CPR saves on campus over the past academic year.
An all-volunteer, student-run organization, RIT Ambulance is a New York State Department of Health Certified Transporting Ambulance Corps. Volunteers answer more than 650 calls per year, responding anywhere on campus within minutes. Over its 50 years, RIT Ambulance has become one of the most decorated collegiate EMS crews in the country.
From transport to patient care
RIT in 1968 was different place, and its student body included many returning veterans of the Vietnam War. That same year, RIT moved from one building in downtown Rochester to 1,300 acres in Henrietta. More room, buildings, programs and people, it was in this atmosphere that the RIT Ambulance first became more than an idea.
At the time, emergency calls were dispatched to the university's campus safety officers. If emergency care was needed, they'd contact Henrietta or Rochester ambulance crews. This sufficed for nearly 10 years, supplemented by a handful of RIT student-volunteers who assisted in non-emergency transport to and from local hospitals.
By the late 1970s, student-volunteers created a plan to prove to campus administrators that a dedicated EMS service was viable, could be staffed 24/7 and training beyond basic first aid could be provided that met standards for certified ambulance teams. It was looked upon with skepticism, said Paul Whalen. How could a group of students fulfill the safety needs of a campus rather than a group of trained professionals?
"We had to build what was needed, and we wanted an ambulance," said Whalen '81, president of the Emergency Medical Unit, as the RIT Ambulance was called in 1980. His group worked on the administration's requirements—including a business plan to pay for an ambulance— meeting them all within the year.
"We were college kids, calling vendors and asking them to stop by and show us an ambulance," he recalled. "We became an ambulance team, and would be doing more than transporting. This was patient care."
RIT became one of the first universities in New York state to have its own ambulance because of student efforts. And instead of standing guard observing situations, the agency would deliver hands-on care. Then, as now, RIT Ambulance—a name change that occurred in 1982 to reflect its broader services—would work large campus events such as graduation and at Brick City Homecoming. They would be available at sporting events, concerts and involved directly in campus emergency calls.
Building leadership skills
Since 2003, RIT Ambulance has served more than 11,000 patients—from students and adults to the 4-year-olds at RIT's daycare center. Prior to 2010, both RIT Public Safety and the Monroe County 911 Emergency Communications Department (ECD) dispatched RIT Ambulance. It is now solely dispatched by ECD for campus and community emergencies.
Today, there are 60 active members—students, faculty and staff serve as volunteers—and numerous alumni, including 42 lifetime members. Current members are a mix of students from different colleges, some in environmental and emergency management programs, others in political science, history, information technology and other programs. Daniel Hoffman is a computer science major. He joined in his freshman year, and now as its president, oversees administration of RIT Ambulance.
"RIT Ambulance has grown so much since it began," said Hoffman, who is from Albany, N.Y. "Not only did I get a chance to grow as a leader, I was able to see my fellow students grow alongside me as leaders."
One of those leaders is Oren Cohn, operations chief, who manages operations, providing training and emergency preparation as well as doing research as part of the university's comprehensive active shooter response initiatives. On campus, Cohn represented the agency during planning meetings with members of RIT Risk Management. Off campus, he earned a seat on the Town of Henrietta's Unified Emergency Management unit, established in May 2017. Made up of local ambulance, fire department and other emergency workers, it aims to develop coordinated disaster recovery plans for the region.
"Increasing our role in the local community was a big goal of mine this year," said Cohn, who is from Bedford Hills, N.Y. "In doing all these trainings and scheduling, we have been able to raise our call coverage significantly.
Cohn, who followed in his father's footsteps by becoming a volunteer firefighter, will earn a degree in environmental sustainability, health and safety this May and intends to continue in emergency management like many RIT Ambulance alumni before him.
Angelica Fogg, deputy chief of operations, balances her RIT duties with full-time classes and work with the local Monroe Ambulance EMS unit. She says RIT Ambulance is a way to give back to her communities. "This was also a way to make the college experience interesting. It's something we want to do to help our campus," said the fourth-year political science major from Ballston Lake, N.Y. She will continue paramedic training after she graduates in May.
Past, present and future
Alumni from around the country returned recently for a 50th anniversary celebration, proud of the crew's achievements over the years and the role they played in its foundation. Experiences with RIT Ambulance influenced their futures—either leading to careers in emergency management or as EMS volunteers in their own communities.
"RIT Ambulance gets in their blood. They are dedicated and passionate about what they do," said Dr. Wendy Gelbard, associate vice president, Wellness, Student Affairs Division, and medical director of RIT Ambulance.
That dedication was evident during anniversary events. The RIT Ambulance pulled up to an accident where two cars were crushed together; passengers inside were not moving; and broken glass, parts and metal were scattered across the scene. Working with Henrietta's Fire Department crew, RIT Ambulance set up a safety perimeter as car doors were cut away to extricate those trapped inside. They removed the drivers and passengers from each vehicle and loaded them onto stretchers.
Anyone nearby would believe it was an actual accident with multiple injuries. Instead, it was a training for RIT Ambulance personnel, a regular and necessary occurrence. Alumni recalled participating in similar trainings.
Whalen is keeping that history alive with other alumni such as Dave Harris, director, training, utilities and environmental management with RIT's Facilities Management Services, and Vince Incardona, senior systems administrator for the university's Information and Technology Services. They were part of that early planning team and student-volunteers. Today, as RIT staff, Harris and Incardona are often consulted when questions of past history arise. Whalen continued as an EMS volunteer in New Hampshire where he has lived since graduating from RIT. Another is Ted Van Horne '99, president and CEO of American Medical Response, a national provider of emergency medical services, equipment and healthcare solutions.
"Twenty years go fast," said Van Horne, who returned for the anniversary. "That time working together, learning together, taking care of patients and your peers, that's one experience you can't get anywhere else. RIT Ambulance provides that. It was foundational for me, and it was foundational for hundreds of students."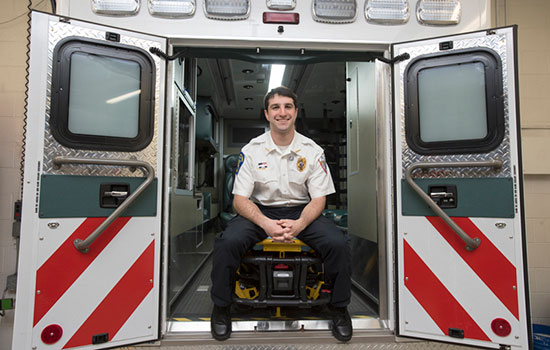 A. Sue Weisler
Video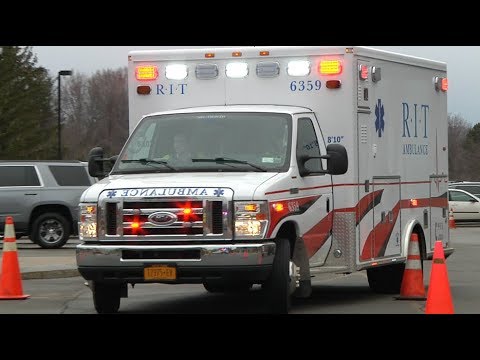 Related News
Topics