RIT Baja Racing takes third place overall in competition
Team also takes top placements in static and dynamic field events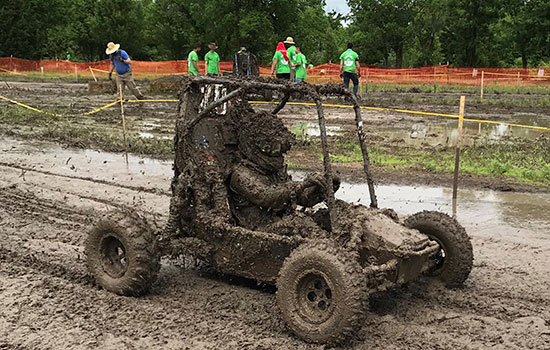 RIT Baja
After intense rains, a shortened endurance race and a flooded course, RIT's Baja race team took third place overall at the SAE Baja competition event held in Pittsburg, Kan., this weekend. The team also took top placements in the sales and design presentations as well as the suspension and traction events among 100 collegiate teams at the international competition.
"Based on my 23 years of Baja experience, this event presented some of the toughest weather-related challenges the team has ever endured," said Martin Gordon, RIT's team faculty advisor and professor of manufacturing and mechanical engineering technology. "Capricious conditions over the four-day event included marble-sized hail, drenching rain and temperatures in the 90s with high humidity."
The team travels for its final competition to Baja SAE Washington in two weeks.
At the end of each season, the teams that demonstrate perseverance, engineering excellence and competitive success with the highest cumulative points are eligible for the Mike Schmidt Memorial Iron Team Award. The award is particularly significant for the RIT team as it is named after a former teammate who was instrumental in the team's participation in Baja events and remembered as a strong, supportive competitor—to teammates and opponents—until his death in 2001.
RIT is among the top overall finishers this season with a win in its opening competition in Maryland in late April.